7 Tips For Giving Your Younger Kids An Old iPhone
By Mike Maddaloni on Tuesday, March 21, 2017 at 08:08 PM with 0 comments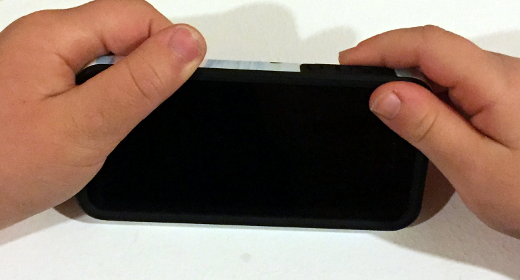 A common situation in my household and others is when parents upgrade their mobile phones they then give the old one to their kids. With more and more apps tailored to kids, their desire to take pictures as well as shorter device upgrade cycles, it is a logical scenario. Not to mention kids know how to use them better than most adults and, frankly, they make for the occasional babysitter, but I digress.
As good as they are, and as much as they can be used for educational purposes, simply handing over your old device without restrictions when you get a new one is not the best approach.
For the iPhone and Beyond
Here I will be specifically talking about the Apple iPhone, as it is what I use and know best. Where some or all of these tips may apply to other mobile devices, such as an Android, I don't know them as well, so I will only vouch for what I know and lessons I have learned.
Where there are some features for managing the use of them by the kids, and apps are continuously coming onto the market to address this, there is already some features and settings out of the box built-into iOS – the iPhone's operating system – you can leverage, along with good old-fashioned common sense.
As someone who first did this years ago, and has learned a few things along the way, I'd like to share with you some tips I learned – some the hard way – for giving a kid an iPhone. Note many these apply to whether or not the iPhone you give has a SIM card in it or not, and I indicate which ones apply to specifically to having one or not.
1. Wipe It Clean – Once you have activated your new iPhone, synced all of your photos, contacts, calendar, music, apps, etc. to the new device and did one final backup of it, have your kid start with a "fresh" iPhone by wiping it clean, or doing a hard reset. This article from Lifewire takes you through doing a hard reset on various versions of the iPhone. This way, your kid will not see any of your old information, apps, texts, notes, email… or something you may have forgotten was on it.
2. Use Your Own Apple Account – By using your own apple account for the kid's iPhone, they won't be able to install any apps on their own, and it will require you to enter your own password to have any added to the device. Any photos they take will also appear in your Photo Stream, as another way of monitoring their activity. And when you enter your password, make sure nobody else sees it!
3. Use a unique passcode, different from your own – Their iPhone should be locked with a passcode… just like yours is, right? You should know their passcode, and tell them not to change it (they will likely find where to do so), and if they do and don't tell you what it is, you will have no choice but to wipe it clean again.
4. Turn Off Cellular Data For Apps – Streaming Pandora and watching all of the Angry Birds app videos is certainly fun, and can add up if they are eating at cellular data. If your device has a live SIM card in it, make sure to turn off the settings to use cellular data, which will force them to use WiFi for such app features. Even with recently launched "unlimited" data plans, the more data you use, the slower the connection can be.
5. Turn Off Notifications In Apps – It's one thing if they use the iPhone, it's another if it keeps beeping and vibrating for whatever random notifications. Turn off these notifications so they have less reasons to keep it in their hands… any more than they are now. Where you can do it for already installed apps through the Settings, you can also be with them when they first launch a new app, and when prompted to show notifications, you can always decline them.
6. Do not give them a charger – If they don't have a charger and need their iPhone recharged, they need to give it to you. Granted many households have chargers everywhere (mine included) but one place should not be in their possession. Most likely the battery on your older iPhone is not too strong and draining quickly, so it this adds an additional control mechanism on the device.
7. Do not "give" the iPhone – You're probably reading this and saying, Mike, so far you have been talking about giving them a device, now you're saying not to? What the… Ok, ok, let me explain! The kiddos can use the device – customize the icon locations and wallpapers, get a case for it… but it is still your iPhone and their use of it is a privilege! A privilege can be revoked if abused or as a consequence of not getting out of bed in the morning or whatever other challenge you have with them as a parent.
Take a few steps before you simply hand over the old iPhone, and you'll be glad you did.
Demystifying Giving Your Kid An iPhone
Parents are faced today with challenges they themselves and their parents didn't have to deal with, one being mobile technology. Where it is impossible to watch the kids constantly and how they use the devices, taking some preventative steps will go a long way to instilling responsibility in using the technology.
---
This is from The Hot Iron, a journal on business and technology by Mike Maddaloni.
---
Did you enjoy this? Subscribe to The Hot Iron by RSS/XML feed or Read by Email.
---
Technology
•
Mobile Technology
•
Strategize
•
Thrive
• (0)
Comments
•
Permalink
Comments

Post a Comment
Note: Comment moderation is active, and your comment will be viewable once it is reviewed.