By Mike Maddaloni on Sunday, November 05, 2017 at 08:24 PM with
0 comments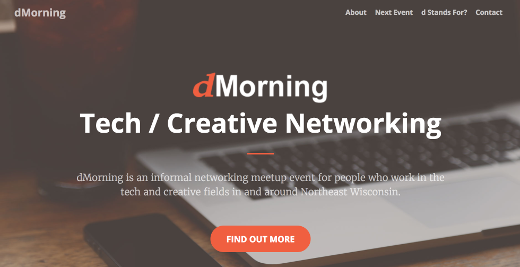 With great anticipation I am pleased to announce a networking event for people who work in the tech and creative fields in Northeast Wisconsin. Introducing dMorning.
So what is dMorning?
The idea behind dMorning is relatively simple - informal networking before the busy workday starts, with no set rules and no agenda. Since I moved to the Fox Valley of Wisconsin this past summer, I have been looking for something like this, as I work in the Web and I am looking to meet people who work in similar fields in my new home area.
In the past I have hosted a variety of meetups where I used to live in Chicago – some specific and some general – and I have found the latter to be more interesting. A casual gathering of people to talk about what they are working on, sharing stories and bouncing ideas off each other… this is something I have wanted to restart for a while, and why not here? My plan is for this to be a monthly event.
The first dMorning will be on Friday, November 17 at 7:30 am at All Seasons Coffeehouse in Appleton, which is conveniently located off I-41 at Wisconsin Avenue. I only say it goes until 9:30 am as that is likely as long as I will be there. There is no cost for dMorning, you only have to pay for any beverages or food you purchase from this locally-owned business.
What's in a name?
You may be wondering about the name, dMorning. As I sought out a name for this, I didn't want to pick something limiting. On the Web site at dMorning.com there are some ideas of what the "d" could stand for.
Hope to see you there!
---
This is from The Hot Iron, a journal on business and technology by Mike Maddaloni.
---
Did you enjoy this? Subscribe to The Hot Iron by RSS/XML feed or Read by Email.
---
Announcements
•
Business
•
Technology
•
Mobile Technology
•
Thrive
•
Web Design
•
Web Development
• (0)
Comments
•
Permalink

Page 1 of 1 pages