By Mike Maddaloni on Wednesday, December 16, 2009 at 04:26 PM with
1 comments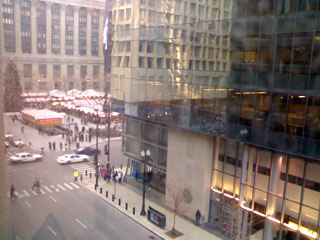 This week I am working at OfficePort Chicago. OfficePort is what's referred to as a co-working environment, where anyone from entrepreneurs to small businesses can call OfficePort their own office.
The folks at OfficePort offered me to try it for a week. I selected a "port" by the windows, and the accompanying photo is of the view from its location at 9 W. Washington Street in the Loop, which faces the CBS2/Morningstar building and has a view of the Christkindl Market at Daley Plaza. For the sake of full disclosure, OfficePort offered me the week to work here at no cost, and did not ask me to write anything about them, but I have been compelled to write this after being here a few days.
How is it? So far, so great! As my home working environment is just me in my windowless room, it is refreshing to have others around me, not to mention a view. I'll sum up my experiences working at a OfficePort Chicago after the end of the week.

Did you enjoy reading this? You are welcome to subscribe to The Hot Iron by RSS feed or by email.
Business
• (1)
Comments
•
Permalink

Page 1 of 1 pages