By Mike Maddaloni on Monday, May 25, 2015 at 11:48 AM with
0 comments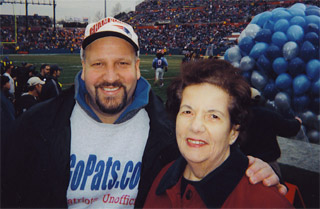 This year marks 15 years that I have laced up my sneakers, grabbed a bottle of water and a few family and friends and walked along a body of water for a great cause in memory of a great person.
In 2001 I participated in the first of what is now called the Liver Life Walk, a walkathon in support of the American Liver Foundation, or ALF. It was literally a few weeks after my Mom lost her battle with primary biliary cirrhosis, or PBC, an autoimmune liver disease that inflicts women. At the time I really knew little about liver diseases, heck about how the liver works in concert with all of your body. Since then I have learned much, including the work the ALF does in research, education and advocacy for the fight against the many forms of liver diseases.
As I have done in the past, I ask you to join me, whether literally in walking with me in Chicago on Saturday, June 13, or by supporting my team, The "A" Team, by making a donation.
It goes without saying what this means to myself and to the cause. Thank you in advance for your support.

---
This is from The Hot Iron, a journal on business and technology by Mike Maddaloni.
---
Did you enjoy this? Subscribe to The Hot Iron by RSS/XML feed or Read by Email.
---
Announcements
•
Diversions
•
Thrive
• (0)
Comments
•
Permalink

Page 1 of 1 pages