By Mike Maddaloni on Friday, June 04, 2010 at 01:15 PM with
0 comments
As a Web site owner, today you must do everything you can to draw traffic to your Web site. There are the obvious methods of doing so – links to your Web site, search engine optimization (SEO) and search marketing. All of these are an ongoing process which of course will take time and money.
Many people forget something obvious – visually drawing traffic to your site. The most common way this plays out is when you are navigating bookmarks or manually typing a URL in your browser address bar and a list of previously-visited Web sites appears. Along with those addresses and Web site titles, there may also be an icon appearing. This is called a favicon, and your Web site should not be without one.
Favicon is a contraction of "favorites icon" and is yet another way for your Web site to stand out. It is technically an icon file on your Web server that is referenced in your Web pages and is displayed in the browser. Below is an example of favicons which appear both on the address bar and tabs of my Firefox browser.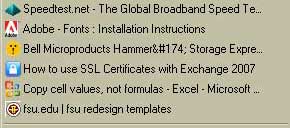 If you bookmark a Web page that has a favicon, it will also appear in your list of bookmarks, as shown in the accompanying screenshot. Favicons may also appear on mobile browsers as well. Note however favicons may not appear on older browser versions, as I have written before are still out there and in use. Most all current browsers will display them. As you can see, a favicon will help your Web page stand out among the others. It can also reinforce your branding beyond the Web page itself, helping lead people back to your Web site if they liked what they saw the first time.

So what happens if your Web site does not have a favicon? You will see a blank rectangle resembling a piece of paper or simply nothing where the favicon would be, as shown in the accompanying screenshot. As a result, the title of the particular Web page which was bookmarked will have to do all of the work to visually draw people. Again, how does the saying go, a picture is worth 1,000 words?
If your Web site does not have a favicon, contact your Web site designer or developer and ask for one. Of course if you are unsuccessful, you can always contact us at Dunkirk Systems, LLC and we would be more than glad to work with you to make it happen. A favicon is a literally small file that can have a large impact on your Web site.

Did you enjoy reading this? You are welcome to subscribe to The Hot Iron by RSS feed or by email.
Build
•
Mobile Technology
•
Web Design
•
Web Development
• (0)
Comments
•
Permalink

Page 1 of 1 pages