By Mike Maddaloni on Tuesday, May 13, 2014 at 08:21 AM with
0 comments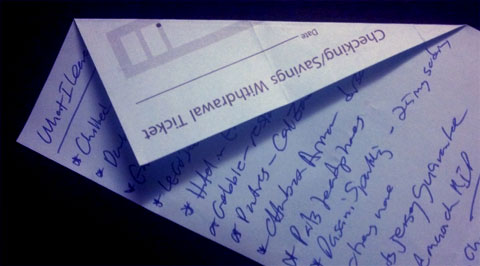 With ATMs that accept cash and check deposits without an envelope and mobile apps which take a picture of a check to deposit, the end of the deposit slip, along with its sibling the withdrawal slip, is coming soon. Fortunately the back of these are blank and a withdrawal slip made for a nice way to track what I learned throughout the week.
I finally "tuned" into Double J, the new all-digital radio station launched in Australia and the sibling of Triple J, Down Under's nationwide terrestrial and digital alternative music radio station. I have only listened once but liked its eclectic mix and hope to tune in more.
When my family traveled out to Eau Claire, Wisconsin last week for my wife's Aunt's funeral, we learned about JAMF Software, a company who makes enterprise management software for Apple computers and devices. For those who don't know what enterprise management software is, it basically makes it easy to keep track of a bunch of computers. The company, which started in Minneapolis, Minnesota, is moving "back" to the hometown of the founder in Eau Claire, and making quite a splash in its new headquarters and even buying an old hotel and making it into a boutique hotel. A friend who lives there is a teacher and had the founder as a student, and she is proud of his accomplishment. As for what JAMF stands for, see it here, but note there are some asterisks and other symbols making the works safe for work!
Where one Eau Claire hotel is making a comeback, another declined and is now gone, and we were wondering why it wasn't coming up as having occupancy for when we were there.
Where some hotels in Wisconsin come and others go, yet another lingers on. Along I-94 in Johnson Creek, Wisconsin, across the highway from an outlet mall is an odd looking place called the Gobbler. It is the restaurant of what was a futuristic hotel built back over 50 years ago. Where the hotel portion is now gone, the abandoned restaurant remains. The link above has some decent pictures and all you need to do is search on the Gobbler for more stories about this unique landmark.
The Spanish word for panties is "calzones" and I will never think of the Italian food the same way again.
It appears the OtterBox Armor line of mobile device cases has been discontinued by the manufacturer. I got a hint to it over the holidays when I saw the cases for around US$25, about a quarter of their original sale price. The idea behind the Armor line was you could drop the phone on a hard surface or in the water and no damage. Granted the case doubled the thickness and weight of the mobile device. But when my 3-year old launches my iPhone across the room, I am rest-assured I can still pick it up and play Angry Birds.
I bought some Dasani Sparking water in cans this week. The Dasani brand is owned by Coca-Cola, and this appears to be the first "national" seltzer brand, as many are regional such as La Croix and Polar, the latter which is my longtime favorite from central Massachusetts. One thing I noticed on the can of Dasani Sparkling with lemon flavor is that it contains natural flavoring with zero calories like other brands, but it also contains 25 mg of sodium, where other brands are sodium free. Not sure what Coke put in the formula that needs to contain salt, but others seem to be able to flavor it without it.
The hammer finally fell on CardMunch as its owner LinkedIn finally announced it was shutting down the business card scanning app and service. CardMunch has had issues for a long time yet LinkedIn has been surprisingly mum and slow to respond to the outcry for what was a decent service. They are partnering with Evernote to offer a similar service, but I have already moved on with CamCard.
When you notice a change in the email name from "Tech Support" to "Customer Service" be expecting a dumb-downed level of support, as I have sorely noticed from one vendor of mine.
Whenever I checkout from a Walgreen's store I see flashed on the pay station a screen where I can press a button to get my receipt emailed to me. As my cat-like reflexes have waned in recent years, I have not been able to catch the split-second display of the option. However the other day luck came my way and I was able to press it in time, and did get my receipt emailed to me. I am not sure why it works that way, but I am not going to raise it with the drugstore behemoth – every time I raise an issue with them on social media, namely Twitter, they tell me they created a ticket for me, but then never respond and whenever I follow-up with them, they never respond.
As I have been remiss in writing about my favorite self-cloud service ownCloud, I thought I would share this great video they recently released and I finally watched this week. It's from their commercial side, but ownCloud is an open-source, free application. It is just over a minute and explains well part of the power of this self-hosted service. View it embedded below or view the ownCloud video on Vimeo.
---
This is from The Hot Iron, a journal on business and technology by Mike Maddaloni.
---
Did you enjoy this? Subscribe to The Hot Iron by RSS/XML feed or Read by Email.
---
Announcements
•
Blogging
•
Business
•
Technology
•
Mobile Technology
•
Diversions
• (0)
Comments
•
Permalink

Page 1 of 1 pages