By Mike Maddaloni on Saturday, May 31, 2014 at 09:25 PM with
1 comments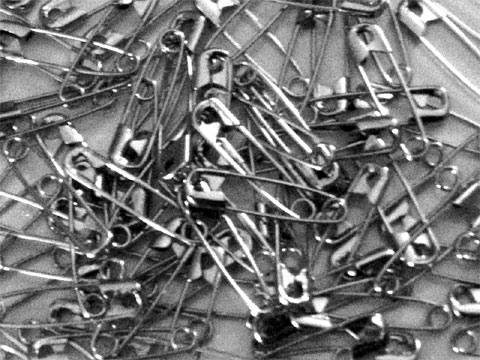 Without further ado…
Over the last 5 plus months of using Dryv, the Chicago start-up who offers on-demand pickup and delivery of your dry cleaning and laundry, not only has my life been made a tad bit simpler, but I have amassed a collection of safety pins. The pins hold the tags on the garments and for some reason I have been saving them. I have yet to actually use one, yet I hold onto them. If anyone reading wants some (or all), feel free to contact me. Otherwise, the container will continue to fill. If you want to collect your own safety pins and save $20 off your first order, follow this link to Dryv, enter code 6H1A and request a pickup on the Web or your iPhone.
Tech media reports about a compromise of eBay logins surfaced almost a week before I received an email from eBay recommending I change my password. You would have thought some companies would have learned from other recent network breaches.
A primatologist is someone who studies apes and monkeys and wants to teach them to communicate with humans.
Over the weekend my lovely wife and I stayed at the Best Western Premier Waterfront Hotel in Oshkosh, Wisconsin. It was completely remodeled last year and it is an awesome hotel with great style and amenities. But I have to admit, when I saw the name "Best Western" I wasn't immediately drawn to this hotel. It could easily be rebranded as a Marriott or Sheraton as it was on par or even ahead of some hotels with those brands I have stayed at. I wonder if others have thought the same?
The reason we stayed at that hotel in Oshkosh was that it was our 12th wedding anniversary. I still seem to be learning about not only keeping but thriving in our relationship on a daily basis, but it is lessons well learned!
I received an email from LinkedIn inviting me to their long form post program where essentially I can write and post full articles similar to what I post here at The Hot Iron. Where this will be an option made available eventually to everyone who uses LinkedIn, I will pass on it for now. There are 2 compelling reasons why I am not clamoring to post something there. The first is in the "rights and responsibilities" of the offering where it indicates I could have posts disabled or lose my LinkedIn account entirely based on what I write, if it is found to be to salesy or in violation of their user agreement. The second is the track record LinkedIn has of terminating services within its property, such as network activity RSS feeds, their Answers section and its acquired CardMunch apps and service. By sticking with my own platform I will retain full editorial control of my content as well as the continuous availability of it.
It is better to communicate bad news directly rather than let people hear about it indirectly.
When I saw all of the news on the self-driving cars from Google, all I could think of was the Johnny Cab, a robotic-controlled cab service from the movie Total Recall starring Arnold Schwarzenegger. The link is to a clip of the movie where the Johnny Cab is featured. It is not necessarily "safe" for work, and of course that always depends on where you work.
I've just started watching some of the videos from the Lumia Stories project, where 100 people, born every year over the last 100 years, gets a Nokia Lumia mobile device and records part of their personal story. The campaign was created by 1000heads, the amazing word-of-mouth agency I have had the pleasure to get to know over the years from my involvement with other work they did with Nokia. It has me thinking about recording more of my history and getting history from my family members. I do count what I write here as being part of that.
When changing my eBay password I reviewed my list of logins and passwords and saw one for "something" called BugMe. I didn't recall it, and upon further review I still don't know what it was, but now it is an app productivity tool for tracking tasks with virtual sticky notes. I started using it on my iPhone for both personal and work tasks and so far so good. I plan on using it for this week's learnings tracking.
This past week Steve Perry, the former lead singer of the band Journey, performed a few songs from his former band during an encore after a performance by the band Eels in St. Paul, Minnesota. Apparently Perry and members of Eels have become good friends. What's interesting is that Perry hasn't performed on stage in over 20 years. As songs from Journey played over and over on the radio from the late 70's to the 80's to today, it was great to see and hear him perform. Though his hair is a little shorter today, he still has it with his unique singing voice. You can watch the video embedded below, or follow this link to watch it on YouTube.
---
This is from The Hot Iron, a journal on business and technology by Mike Maddaloni.
---
Did you enjoy this? Subscribe to The Hot Iron by RSS/XML feed or Read by Email.
---
Announcements
•
Blogging
•
Technology
•
Mobile Technology
•
Thrive
• (1)
Comments
•
Permalink

Page 1 of 1 pages