By Mike Maddaloni on Friday, May 16, 2014 at 12:05 AM with
2 comments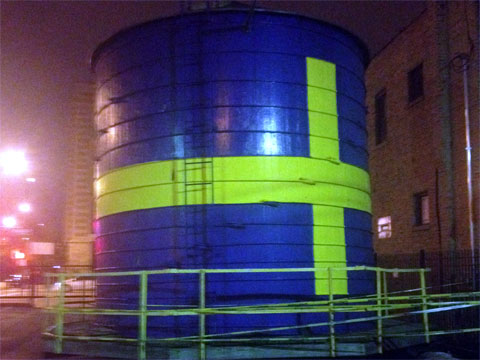 Not everything we learn in the course of a week is a life lesson or something which jumps out at you completely. But even though I never hear a lot of feedback or get a lot of comments on these posts, for me, it is a good way to end the week and look back.
The water gravity tank that was atop the Swedish American Museum in the Andersonville section of Chicago still exists. It now sits in a parking lot, as pictured above. Reports are it may cost upwards of US$200,000 to repair and replace, and a fundraising effort is underway. Perhaps there may be a cheaper way to restore the structure, and one which does not collect water, as when it was removed it was full of ice.
Prior to taking the picture of the gravity tank, I attended a performance of Barrel of Monkeys. They are a group of teachers and performers who work with public school students and teach them about creative writing, then stories are selected and a sketch is created by the actors. I know I did not do this description justice, so visit their Web site and look for when their next performance is, and thank me later.
Donald Sterling, the owner of the NBA's Los Angeles Clippers, was born in Chicago, and lived here until he was 2 years old.
I got a new work PC this week, and it has a touch screen and is running Windows 8.1. I really didn't need a new computer, but the lease was up on my "old" Windows 7 PC, which I really liked. I have only used the basics of touch on it, as my big hands don't work well with the small text in menus, etc. Looking forward to trying out new apps designed for Windows 8.1, and in the meantime I will use it just like I did my Windows 7 PC.
The NFL's New England Patriots have created a jersey guarantee offers someone who purchased a jersey for a player, and then if that player is no longer under contract with the team, a 25% discount on a new jersey. This is of course built upon the team's previously successful exchange program for the jersey of Aaron Hernandez, which I feel is even more genius on the part of the Patriots, especially with the cost of jerseys today.
Tickets went on sale and the line-up of bands was announced for Riot Fest, a 3-day outdoor concert in Chicago, as well as Denver and Toronto, which encompasses many stages with bands and acts performing simultaneously, not to mention a carnival and midway of rides. Of all the bands performing, include The Cure, The Mighty Mighty Bosstones and Social Distortion (a few of my favorite bands from the 80's), is Jane's Addiction. What's interesting about them is their lead singer, Perry Farrell, is the creator and still involved in another similar and larger concert in Chicago, Lollapalooza. I'll be at the Chicago shows at Humboldt Park on September 12-14, will you?
This past week I got an off email from photo-sharing service Shutterfly that was a little odd. I rarely use the service, and the message seemed to be in response to the fact that I was pregnant, which despite wild rumors is the furthest from the truth. I then got another email from them, with an apology from their Chief Marketing Officer John Boris saying they were "truly sorry" for the email. When I got the email, I tweeted about it and got a few snarky comments from friends, and that was it. But as the topic of pregnancy can be extremely sensitive, I am sure it pissed someone off.
Workers began installing the letters "TRUMP" on the Trump Hotel and Towers in Chicago. The 20-foot high letters will be facing the Chicago River side of the tower, which means when I walk out my front door every morning I will see them. So far they have the letter "T" installed and had it lit up at night. Where it may appear a little tacky, I am in favor of any building having branding on it, as that brand is the reason why the building is there – or in other words, they built it.
There have been a lot of attacks on human resource departments in technology publications, which has resulted in very defensive responses from the HR community. I think one thing that some people who are not in favor of HR departments, namely employees, fail to remember is that at the end of the day, the HR department serves the company, not the employee.
May 15 is Fluevog Day, where large discounts and events occur at John Fluevog shoe stores around the world. I learned that it is also the birthday of the eponymous owner. I only own 2 pairs of shoes and they are both Fluevogs – the Will and Bodden styles. At 5:15 pm local time in each store, a "class photo" is taken of staff and customers, and it will be sent to each person pictured, personally autographed by John himself. Where these activities may seem unusual, they are in-line with the social outreach and great attitude of the brand over the decades, even long before social media was on the scene.
In an interview in Time magazine, actor Colin Firth discussed speaking Italian and used Italian swears. As someone who is Italian-American, and sadly does not speak Italian, I of course know some of those swears he spoke of, and more that he didn't. Firth's wife is Italian and she taught him, which I think is awesome. You can see the video embedded below or click the article link above to watch it.
---
This is from The Hot Iron, a journal on business and technology by Mike Maddaloni.
---
Did you enjoy this? Subscribe to The Hot Iron by RSS/XML feed or Read by Email.
---
Announcements
•
Blogging
•
Business
•
Technology
•
Social Media
•
Strategize
•
Thrive
• (2)
Comments
•
Permalink

Page 1 of 1 pages