By Mike Maddaloni on Sunday, March 30, 2014 at 11:58 AM with
0 comments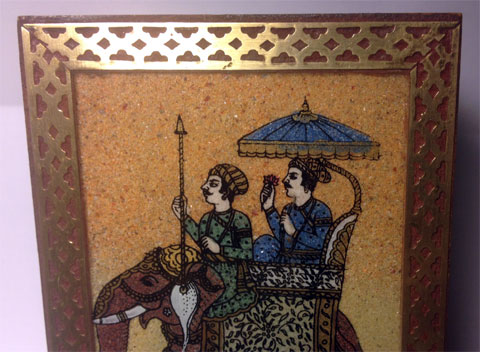 This past week was the first time that I learned something new in the presence of someone and they asked me if it would make my next blog post of what I learned. Sometimes it's nice when the real world collides with the virtual world.
A colleague from India gave me the box pictured above. It could be used as a pencil holder or a even a phone cradle, but I plan on putting nothing into it and admiring it for its own beauty. Thanks Sanam!
Earlier this week the conductor a Chicago Transit Authority Blue Line subway train fell asleep at the controls as it pulled into the O'Hare Airport stop and the train plowed past the end of the recessed track and went up the stairs of the station. Yet the media calls it a derailment. Watch the video of the accident in the link to the article, or view (and save!) the animated GIF of it and determine for yourself if it is merely a derailment.
After finally completing 4 consecutive weeks of Intro to Yoga classes at Tejas Yoga, I feel I have learned enough to take on the "foundation" level of yoga classes. Thanks to my instructor Zach for leading me on the start of my yoga journey. Namaste.
After less than a week owning the Frozen DVD, it has already been used as a disciplinary consequence for poor behavior exhibited by my little ones. The soundtrack to the movie was also bundled with this. Early indicators have shown it to be reasonably successful.
Tickets for Lollapalooza went on sale this week, but I decided to pass on it and am planning to attend Riot Fest instead.
A couple of weeks and a couple of updates later, the Starbucks mobile app is still offering what I consider an awkward user experience for its much-touted tipping feature. Rather than setting an automatic amount to tip after a purchase, or make it work much seamless, several seconds after you have your app scanned, you are prompted to add a tip to the purchase. This several seconds seems like an eternity and, as has happened with me a couple of times already, I have already put my phone away by that point and did not tip my barista. Plus the "shake to pay" feature doesn't seem to bring up my barcode to scan every time. I hope these will be fixed soon.
I have been noodling on something I am calling "cultural experience," or CX, when it comes to technology and not only the experience of using it, but how the use of it is influenced by the culture of the community and vice versa. Chances are I am not the only one thinking about this, and there may be others out there thinking and writing on it, and I need to start putting some of this down in Word and go somewhere with it.
My thougths go out to my fellow NFL AFC East brethren in western New York, as this has been a rough week for Buffalo Bills fans. First, original owner Ralph Wilson passed away. Wilson was adamant at keeping the team in the Buffalo area, and the team is contractually tied to its stadium, named after Wilson, for at least the next decade. It was also announced that former quarterback and NFL Hall of Famer Jim Kelly was supposed to undergo surgery for oral cancer, then it was decided to treat it rather than operate. Kelly was a phenominal athlete, and I have vivid memories of seeing him kick the Patriots' butt up and down the field for years. In later years he was a businessman and philanthropist, and has achieved probably as much off the field as well.
I learned how to articulate the difference between writing and editing, as I taught it to my 5-year old as she has been working on writing her first book. In Kindergarten.
In the course of researching the service Visual.ly I was looking at examples of the creative videos and infographics they have produced and found this great video example of 29 Ways to Stay Creative. I have embedded the video below or you can follow the previous link to watch it in a browser. My favorite way is the very last one – it is worth the less than 2 minutes to watch this.
---
This is from The Hot Iron, a journal on business and technology by Mike Maddaloni.
---
Did you enjoy this? Subscribe to The Hot Iron by RSS/XML feed or Read by Email.
---
Announcements
•
Blogging
•
Social Media
•
Strategize
•
Diversions
•
Thrive
• (0)
Comments
•
Permalink

Page 1 of 1 pages