By Mike Maddaloni on Monday, June 23, 2014 at 10:08 PM with
3 comments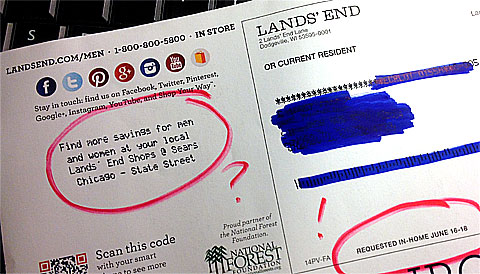 As the original Disney classic Cinderella plays in the background, allowing me a few minutes to post my learnings and thoughts from the week…
Clearly whomever schedules Lands' End catalogs is the only person in the world who doesn't know that the Sears store in downtown Chicago closed over a month ago now.
After a search for a mobile phone that would be good for my Aunt who is, let's just say, a few years older than me, I came across the Doro PhoneEasy 618. When I looked to see where they sell them, of course the closest location listed was the above-mentioned closed Sears store. But as others are still open nearby, I will investigate it to see if it will work for my Aunt, and also won't lock me to a particular network carrier.
Speaking of mobile devices, Web retail behemoth Amazon announced its forthcoming Amazon Fire Phone. It runs the Android operating system, has a 13 megapixel camera, has something called Dynamic Perspective for 3D effects, and you can buy it with or without a phone contract, or as it is known as unlocked. Oh, and it makes it easy for you to buy other things from Amazon. I like the phone. The only thing I am curious about is why the Amazon logo is only on the back of the device and not on the front.
The Web browser Firefox, the direct descendent of the original NCSA Mosaic Web browser, has something called "safe mode" and apparently you can get stuck in it, as I was this week. The only thing is I don't know if I am completely out of it, and cannot disable annoying but surely ignorable browser plug-ins. Ah, to remember the day when the Web browser just did what it needed to.
Last weekend was the annual Chicago Blues Fest, held in Grant Park by Lake Michigan. For several years after we first moved to Chicago, the festivals in the park were truly "open" where you could come and go as you wanted, and providing you didn't break the law, you could set up a tent, flags and have a great time. Shortly after Chicago started bidding for the 2016 Summer Olympics, events like the Blues Fest were "locked down" with large fences and entrypoints put around what were still events with no cost to attend. As my lovely wife and I were walking towards the lakefront we passed the Blues Fest and decided to check it out for a little while. That is, until I saw people with "security" shirts patting people down who were entering the area. Really? Why? Because the number of murders from the previous 2 years doubled… to zero? I was appalled, and simply walked away.
A few hours prior to the Blues Fest dismay I started my day on a high point, participating in the annual Liver Life Walk in Chicago to benefit the American Liver Foundation. We exceeded our team goal and raised over $2,000 to this worthy cause, who also spends almost 90% of monies raised on programs, research and advocacy for liver diseases and the people affected by them. As many of the first contributors to the team found the link here on The Hot Iron, a special thank you in advance of a formal thank you to arrive in your post mailbox soon.
There is nothing like a new battery for your notebook PC.
In a previous lessons learned I had mentioned my daughter's school pictures were taken in front of a green screen and using chroma key technology I could choose the background. This past week we put up her picture, along with my other daughter's picture, which was taken the old-fashioned way with a backdrop. Where her picture is beautiful, it just doesn't have the "warmth" of her sister's. When school resumes I will be requesting they give the option to have a standard backdrop.
My good friend Pete finally… FINALLY had his business' Web site redesigned. Check out the new Web site for Foresight Childproofing. If you are in the Minneapolis-St. Paul, Minnesota area and have kids, call Pete to have him make your home safe for the little ones. With the redesign he also took my advice and had my good friend Emily Brackett and her studio Visible Logic not only build a great site that looks great on a standard computer or mobile device, but she also made some nice changes to the Foresight logo. Wherever you are, Emily and her team can do wonders for you and your business with its presence, from print to Web.
I lost count of the number of emails I received with approved job offers from Apple and Facebook. Where I laud the creativity and timeliness of spammers, they may just want to throw a few slices of spam rather than a few cases if they want to better deceive people.
I finally ordered something from Freshii, a chain of fresh food restaurants. I say finally here as I tried to order from them twice before with no luck. The first time I went into one store and, realizing there was a process to ordering, followed everyone else and grabbed a clipboard and paper to place an order. As I didn't have my reading glasses with me I couldn't read the microtext on the sheet. The second time Freshii was the offering of the day from Fooda in my office and the service was wicked slow, with a huge queue of people. This time I went to a new store around the corner from me. Where I didn't see any clipboards, I did see video screens with small text, but this time I had my reading glasses. Several customers who came in at the same time clearly did not know where to go as we were standing in line at the part of the counter where you didn't order. Clearly the employees couldn't read the confused faces as they didn't offer any real help, only to take our order. I chose a salad, and other around me got other things. The salad was good – not the greatest salad I ever ate, but it was good. As I was finishing my salad a woman who was in line with me before was leaving and said to me, "well, we figured it out!" I will probably go back, but the next time I will explore the options more.
My how time flies. 2014 marks the 28th anniversary of the Marketing over Coffee Awards. Where I don't have strong memories of this from my high school days, what I do remember well is the movie Ghostbusters, which is celebrating its 30th anniversary. With the anniversary has been a lot of talk about the title theme song of the movie by Ray Parker, Jr. and how it came into being, and the article linked here goes into its detail. The video itself was unique in many ways, not to mention the set not bursting into flames from all of the hairspray worn by the people in it. I embedded the video below but if you don't see it you can follow this link to YouTube to view the video for who you gonna call.
---
This is from The Hot Iron, a journal on business and technology by Mike Maddaloni.
---
Did you enjoy this? Subscribe to The Hot Iron by RSS/XML feed or Read by Email.
---
Announcements
•
Blogging
•
Business
•
Technology
•
Mobile Technology
•
Strategize
• (3)
Comments
•
Permalink

Page 1 of 1 pages