By Mike Maddaloni on Monday, June 16, 2014 at 07:18 PM with
0 comments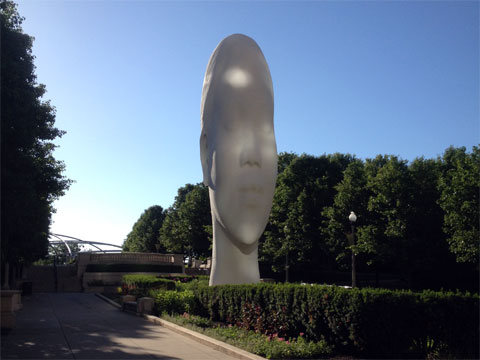 After waiting all total about 30 minutes for Windows 7 to patch itself, and a few other lame excuses for this being posted late…
The installation of the 1,004 Portraits at Chicago's Millennium Park, which I mentioned in last week's post, is complete. This is what it looks like at around 7:30 am Central time with the sun's reflection off of buildings on Michigan Avenue.
Speaking of the last blog post here on The Hot Iron – it was my 750th post. After the last several years of not blogging much, it is good to hit a milestone like that.
Morrissey, who came to fame in the 80's as the lead singer of The Smiths and since has had a prolific solo career, canceled the remaining dates on his US tour as he caught some form of virus in Miami, including tonite's show. The fact that I had great seats for that show makes me sad, but I hope he gets better and books yet a third show in the city, which hopefully be the charm to see him here.
I did get my fix of 80's music last Friday night as I "heard" Foreigner and Styx. They were performing at the FirstMerit Bank Pavilion at Northerly Island, an outdoor ampitheatre that sits where the former Meigs Field airport was. If you look at this aerial map of the venue, you may see water around it. That water is Lake Michigan and Burnham Harbor, where boats are docked or do dock by it for concerts there, where they can hear them extremely clearly, and for free. I know as I was on a boat in the harbor singing along with Foreigner, who's 45 rpm single "Urgent" was the first record I ever bought in the late 70's. It was wicked awesome, and thanks to Kristy and Edi for having us aboard.
People are more inclined to give to a specific cause or item rather than just to a general fund. For example, ask people to contribute any amount to a charity, and you will not get the response like asking someone to donate to purchase a specific piece of equipment for a charity that has a fixed cost. It also works better if you repeatedly go back to those same people and ask for another specific item.
Just recently Hailo, my choice for taxi hailing app, added black car service. So rather than riding in a standard taxi cab, you can choose a black car – a leather-lined sedan or SUV or even a limo – for just a little more than the cost of a standard taxi. This new option is so easy to choose, and it could become addictive.
This past week I learned the terms information foraging and information scent. Though I had just learned these terms, I was very familiar with the concepts and have used them in Web design and content development for years. For those of you that are not technical, follow the link above and read the article and let me know if it makes sense to you, and if you have experienced this yourself.
I don't need someone pimping out their new biography to make it "Ideas Week" – for me, every week is ideas week.
Upon catching up on podcasts this week, I got to listen to the 100th episode of The Voicemail. It is a weekly, around 30-minute podcast on mobile technology hosted by 2 very smart and witty guys, James Whatley and Stefan Constantinescu. If you are interested at all in the mobile device industry you must listen, and thank me later.
My good friend and colleague Tom Ordonez is launching Miami Startup School. Being billed as a "3-month bootcamp that teaches you the right way to create a business. Sales, marketing, legal, tech. Everything you need to do it the right "lean startup" way and stop wasting time and money" I am sure it will be a success for those who attend and for Tom. He is a serial entrepreneur and takes a no-nonsense approach to building thriving businesses.
I was amused by the story of how ad agency Cramer-Krasselt parted ways with Panera Bread. Where I personally don't have an opinion either way about their advertising, they certainly need a creative touch in the presentation of their in-store menus. Most of the time when I am in there, only to buy a loaf of their fresh bread, I am behind people who can't make heads or tails of their menu. With numerous colors and fonts, it is not a quick read by any stretch.
Though it originally aired over a year ago on national TV in the US, I was just made aware of this dialogue in the CBS-TV show "Mike and Molly" which interestingly takes place in Chicago. The exchange is between 2 older men, an Italian-American, and the other who is apparently a farmer or lives in a rural area. Their exchange is full of stereotypes, making references to life on the farm and being Italian. Where comments about an Italian man's mother's moustache is one thing, calling him a WOP is another. The term is a racial slur against Italians, and is clearly not an apples-for-apples comparison to the insults the Italian said to the farmer, yet it somehow cleared for broadcast? You can view the excerpt from the Mike and Molly episode on YouTube at this link and I have embedded it below. Where I usually end my weekly lessons learned on a high note with a video, this one is surely a low point. Seeing this only reinforces why I don't have cable TV or an antenna.
---
This is from The Hot Iron, a journal on business and technology by Mike Maddaloni.
---
Did you enjoy this? Subscribe to The Hot Iron by RSS/XML feed or Read by Email.
---
Announcements
•
Business
•
Technology
•
Mobile Technology
•
Social Media
•
Thrive
• (0)
Comments
•
Permalink

Page 1 of 1 pages