By Mike Maddaloni on Friday, February 28, 2014 at 09:20 PM with
1 comments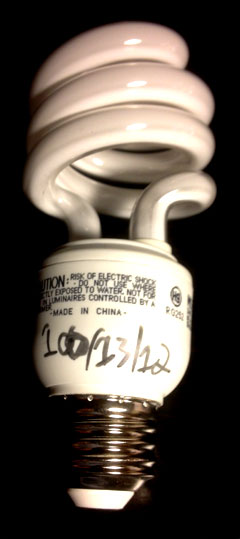 I literally took a page out of my blogging notebook – a blank one – to log what I learned and observed for this the last week of February.
It almost seemed like for a while I was replacing CFL bulbs almost monthly, like they just weren't lasting anywhere as long as they were supposed to. As this was a hypothesis, I decided to record the date on them that I I actually changed them, and this past week the first of them went out. Maybe I need to write install dates on a lot more things I own?
This past week Jim Lange, known best as the host of The Dating Game, left this mortal coil at the age of 81. Interestingly, most of his peers – game show hosts from the 70's and 80's – are still alive and kicking, including Wink Martindale.
Three words – beer pretzel caramels! This past week my lovely wife and I stopped by The Nosh at Block 37 and she saw someone she knows from our old church who now has her own confections business, selling at such events and online. The only problem with these caramels is they seem to disappear pretty quickly.
Amtrak announced this past week that it was starting a residency for writers to write aboard train trips. I think this is genius, as I personally have written many of the posts here at The Hot Iron aboard the Hiawatha train between Chicago and Milwaukee, and I once took the Metroliner from Boston to Washington, DC and got a ton of reading and work done. The seats they will be offering probably would have gone otherwise unused, so what is the added cost, compared to the benefit, for having someone aboard ideally plugging the fact they are on an Amtrak train. This would also extend nicely to my friend Arie's HugTrain as well as what my friend Leyla did when she took the train west for vacation.

The first ingredient listed for Goldfish crackers is smiles. Can your product make a claim like that?
I find myself making product buying decisions based on whether they have Box Tops for Education on them or not.
After several months of driving by it while it was under construction, I was eager to see the inside of The Godfrey Hotel here in Chicago and we visited it last weekend. It is a beautiful space with an amazing indoor/outdoor patio with an amazing skyline view, a great restaurant with cocktails that are made in the kitchen, and after a great meal we asked for a tour of the hotel room and got to see some of the very stylish rooms. I am looking forward to a staycation getaway there some weekend.
Puffs Plus Lotion facial tissues are just right. Puffs Plus Lotion with the scent of Vicks is way too much.
Words that came up in conversations pronouncedly this past week include eminence and polymath – something I am hoping to achieve high levels of both.
Seeing is believing, and I learned that when I saw first-hand the craft of Gentry Design Company which makes handcrafted gemstone jewelry. It is run by a colleague's wife, and when he told me about it I was like, "ok, she makes jewelry" until I saw some of the pieces she has made and I was extremely impressed Of course what I wrote here doesn't do the same justice as seeing the photos for yourself on her site.
GiveForward is a Web service based here in Chicago where you can contribute to the medical expenses of people. It can be compared to a KickStarter or IndieGoGo but for quality of life. I met someone who works there and as I don't know anyone who has a fundraiser on the site I did a quick search on "liver" and saw many real stories of people's medical needs. If you are looking to make a donation to truly affect someone's life, I recommend visiting this site.
I have been trying to write at least 2 blog posts a week – my "what I learned" posts as this one is plus one other. This past week I did write one on the Web service CentUp which offers a unique revenue model for bloggers, writers and publishers while also helping charities. The only problem was the first draft was dry as a bone, and would not do justice to this amazing Chicago-based start-up. Especially one which would make a great video as they did for their IndieGoGo launch last year. So I will work on the blog post for next week and in the meantime you can watch it embedded below or watch the CentUp video on Vimeo.
---
This is from The Hot Iron, a journal on business and technology by Mike Maddaloni.
---
Did you enjoy this? Subscribe to The Hot Iron by RSS/XML feed or Read by Email.
---
Blogging
•
Business
•
Social Media
•
Thrive
• (1)
Comments
•
Permalink

Page 1 of 1 pages