By Mike Maddaloni on Saturday, August 30, 2014 at 06:07 AM with
0 comments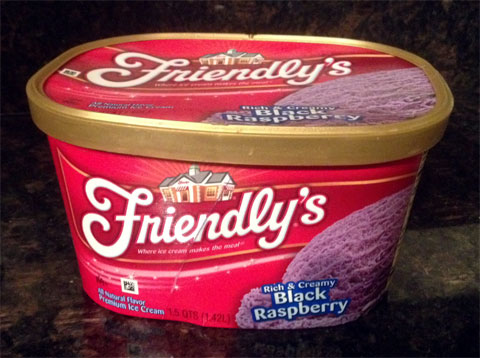 At an early hour with a full cup of coffee…
While browsing the aisles at the local Jewel supermarket, something caught my eye, and something I was not expecting to find in the Midwest – Friendly's ice cream. Friendly's is a predominately East-coast chain of restaurants which is headquartered near where I grew up. As I looked through the flavors, one caught my eye – black raspberry. Now note this is black raspberry ice cream and not sherbet – out East black raspberry ice cream is very common, but I have yet to see it in Chicagoland or Wisconsin. So of course I got some and had a small trip down memory lane. Now if they only had maple walnut, then I would have cried.
Speaking of crying, I did shed a few tears of joy and Dad pride as my oldest daughter rode her bike with 2 wheels and without training wheels for the first time this week. As we are now closer to a park that is kid-friendly, she has simply been able to ride her bike more, and was determined to do it.
Now that the Ventra system is the only way to pay for transit rides in Chicago, I am noticing more and more usability issues with it. One thing that bugs me is the auto-replenishment of your account, where you can enter credit card numbers online, and choose 1 to do the replenish. With the old Chicago Card system, it would send an email alert when it replenished your account, or if it was unable to. The new Ventra site does not do that, so the time you find out if your account is at zero is when trying to board a train or bus, or more likely a bus as there won't be a replenishment kiosk there. I should probably keep a running list of the things I find for a separate blog post on it.
An esteemed colleague shared with me information about the Kuando Busylight, a device which you attach to your computer monitor and changes colors when you are on the phone or when you set your status to "busy" so people won't disturb you in the office place. Where the idea is clever, in my opinion I see this more of a Band-Aid approach to the failings of the modern office setup… something else I could probably write a whole blog post on.
I received a "video bill" from Comcast this week. It used my first name, and told me my balance for the services I have and the due date. I thought this was extremely clever not to mention informative, even for a techie person like myself. The only problem with it? I cannot share or embed the video! The video is done using a service from a company called SundaySky. Not having this feature is something that could really make this service successful. Now I wonder if I will get a video bill every month?
If a vendor had a hard time getting to you and parking once, they will most likely do it again, so don't even bother giving them a second chance.
This week I was browsing a few stores looking for a "temporary table" – something I could use for a short period of time before I bought (and first found) a permanent, nice table to use. As I looked around a thought came into my head from the wayback machine – you don't find cardboard furniture anymore in stores. Back in the 70's and 80's I remember you could get cardboard tables or shelving or other furniture made from cardboard. So of course I looked online and I found vendors there. Granted today we have particle board furniture from IKEA, but there's something about lighter, collapsible furniture that meets the need.
I am still offering my loft condo in the Chicago Loop for rent. The price has been reduced – act now!
Another esteemed colleague shared with me this timelapse video of 1,000 years of European borders changes. It is fascinating to watch, and the music is so appropriate to it. I have embedded it below or follow the previous link to watch it on YouTube.
---
This is from The Hot Iron, a journal on business and technology by Mike Maddaloni.
---
Did you enjoy this? Subscribe to The Hot Iron by RSS/XML feed or Read by Email.
---
Announcements
•
Blogging
•
Technology
•
Strategize
•
Web Design
• (0)
Comments
•
Permalink

Page 1 of 1 pages