By Mike Maddaloni on Thursday, August 07, 2014 at 10:20 PM with
1 comments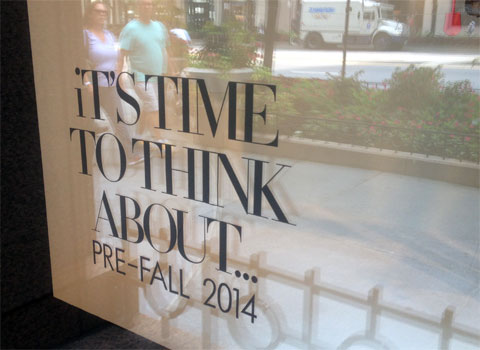 Writing a catchy opening to the presentation of what really resonated with me over the last week isn't always as rewarding as the things I learn, so this time I won't dwell on it.
It's one thing to accuse Hallmark or other greeting card makers of creating holidays to sell more cards, but I never thought retailers would go to the depths of segmenting seasons. Granted the cooler temperatures here in the Windy City may cause some to think about what to wear in a couple of months, but I am not one of them.
Feedback is a dish best served hot and fresh, right out of the over, and not several months later, as it sits on the counter, covered with something but allowed to rot and not satisfy anybody.
A while back ago I registered the domain name SayMyNameRight.com, with the idea of having a Web site where people could post videos of themselves saying their name. If I recall correctly, it was after having lunch with my good friend Tom Ordonez that the idea came to mind. If you click the link it's clear I didn't do anything with the domain name other than point it right back to this very blog. Yet for some reason over the past several weeks it has been getting a noticeable amount of traffic. Maybe now is the time to act?
I was reminded not everybody knows what a "hashtag" is.
Where the bidding wars over the potential mergers of "dollar" stores is going on, one thing piqued my attention, that the "activist investor" Carl Ichan was involved. Personally, I don't get the guy. Granted, I am no student of finance or investment wiz, but is someone who buys a ton of stock in a company and tries to get them to merge really an activist, as in the same term that can be prefaced with the phrase "civil rights?"
Keeper Security, the Chicago-based app for secure password storage, just announced file storage. It is being pitched as a way to store images of a driver's license or passport in case it is lost or stolen, or any other important personal files. As a current user I can get 5 free file uploads and then pay an annual fee from $10 a year and up, depending on the space used. I need to think about this, and where to best spend money on "cloud" services, or on my own server.
In my quest to try new restaurants I finally went to Protein Bar, a Chicago-based chain of healthy quick-serve food. And I have to say, upon my first visit I have become a fan. I was impressed with the store, the menu selections and most importantly the taste. The price is comparable to even Subway and other restaurants in the city. They also have locations in the Washington DC area and in Colorado.
For as many times as I have referred family, friends and complete strangers to get from point A to B with my friend Rashid, Chicago's premier cabbie and expert on customer service, who goes by the trademarked name of ChicaGoCabbie™, for reasons that I don't quite know for sure, I have never ridden in his cab. Granted, because of his work with cab-hailing service Hailo I am a loyal customer. Perhaps it is timing, I am not quite sure. But he has delivered both pizza and cupcakes to me in his chariot!
This past week Boston Red Sox pitcher Jon Lester was traded to the Oakland A's. For several weeks leading up to it, my sports mobile app was buzzing non-stop with alerts on rumors and speculation around the trade. It got so bad I almost turned off the alerts altogether. Unfortunately that is the business of sports today. When I was a kid, I had no idea what any of the players on the Red Sox made, nor did I care.
One of my favorite blogs is Brand New which features logo, design and branding, especially changes to brands. They recently featured a YouTube video interview of the creator of the Hartford Whalers logo. For those not familiar, the New England Whalers hockey team moved from Boston to the capital city of Connecticut in the 1970's, then moved to North Carolina in the late 1990's and became the Carolina Hurricanes. They played not too far from where I grew up, so I was familiar with the team and got to go to many games. Though the team is long gone, the defunct team's logo is almost a cultural icon and is being worn by trendy celebrities. The interview on Hartford's Channel 3 is embedded below or follow the link above to watch it. Note the mention about who really owns the logo, which is something that I wouldn't be surprised would end up in court someday.
---
This is from The Hot Iron, a journal on business and technology by Mike Maddaloni.
---
Did you enjoy this? Subscribe to The Hot Iron by RSS/XML feed or Read by Email.
---
Announcements
•
Blogging
•
Business
•
Domain Names
•
Social Media
•
Thrive
• (1)
Comments
•
Permalink

Page 1 of 1 pages