By Mike Maddaloni on Monday, December 30, 2013 at 11:58 PM with
4 comments
Today, December 30, marks the 7th anniversary of the very first blog post on The Hot Iron, appropriately titled, Hello World.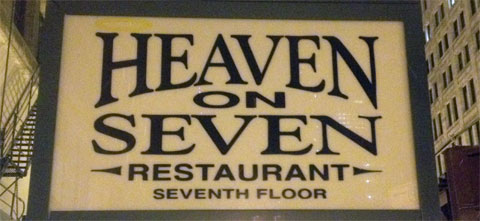 Rather than getting mushy about the past, I'd like to thank you for reading, whether this is the first time you have read something I have written, you for some reason have been with me for the past 7 years or you are somewhere in between.
It has been an up and down journey, but aren't they all? This past year I have gotten re-energized about blogging, and I hope to keep it up in the coming year. Only time will tell.
As I have in the past, I have wanted to have some photo to accompany the years, and this year I chose Heaven on Seven, an amazing New Orleans-style restaurant in Chicago. If you come to the Windy City, you must try it. They have 2 locations – one on the Magnificent Mile and one on Wabash Avenue, where this sign is located in front of. Go to the latter – the feel is more authentic.
---
This is from The Hot Iron, a journal on business and technology by Mike Maddaloni.
---
Did you enjoy this? Subscribe to The Hot Iron by RSS/XML feed or Read by Email.
---
Announcements
•
Blogging
•
Social Media
•
Thrive
• (4)
Comments
•
Permalink

Page 1 of 1 pages