By Mike Maddaloni on Sunday, June 02, 2013 at 01:23 PM with
0 comments
Typically I close posts here on The Hot Iron by asking questions. This time, I am opening by asking one, and it's personal.

Please support me in the Liver Life Walk on June 22, 2013 in Chicago to support the American Liver Foundation (ALF). This great organization uses money raised to fund research and provide support services for patients and their loved ones who are affected by the many forms of liver disease.
Sadly, liver disease can affect people from newborn to the elderly. Yes, even babies can be born with a form of liver disease, with many being autoimmune and even acquired later in life. Some are curable and some are not, and that's where the research comes into play. As well, many patients need a liver transplant as their only option. There are even some liver diseases that affect certain demographics, for example women only,
Why My Family And I Are Walking
I will be at the Liver Life Walk with my lovely wife and my little ones on June 22 in the memory of my Mom, Adeline. It's in her memory in spirit that we call our team The "A" Team and we will be walking.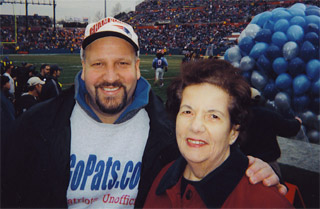 My Mom was diagnosed with primary biliary cirrhosis, or PBC. PBC is an autoimmune liver disease that afflicts women. Earlier in her life she actually had been tested for some of the warning signs of PBC, but as liver tests are expensive and not routinely given to patients (not to mention needing to be justified to the nth degree for health insurance, but don't get me started there!), it wasn't until it was almost too late that she got the diagnosis. Her doctors did much to comfort her and cure the symptoms, but ultimately there wasn't anything they could do to cure the PBC.
When she was diagnosed in Boston, the ALF chapter there was a great resource for us to learn about the disease. My family became active in the chapter there and my wife and I were proud to be asked to be the co-chairs for the Walk for Research (as it was called then) in Boston in 2004, which was shortly before we moved to Chicago. When we arrived here we were introduced to the local Illinois chapter and participated the the Walk here, and I was honored to have been chair for the 2005 Chicago Walk.
Join Us, Donate or Both!
We would be honored to have you be a part of The "A" Team by donating, not to mention joining us on June 22 as we walk along Lake Michigan.

Any size donation is welcome, and your presence there as well will be a great support for the cause.
Back in the Saddle for Liver
With participating in the Liver Life Walk this year, it marks our family's "return" into the fold of the local ALF chapter. A few weeks ago I literally ran into Jackie Dominguez, who has returned as the Executive Director of the local chapter based in Chicago. Her spirit and leadership energized my lovely wife and I to register us for the walk and we are excited to be back on the overall team. Go Liver!
Thank you in advance for your support!
---
This is from The Hot Iron, a journal on business and technology by Mike Maddaloni.
---
Did you enjoy this? Subscribe to The Hot Iron by RSS/XML feed or Read by Email.
---
Announcements
•
Diversions
•
Thrive
• (0)
Comments
•
Permalink

Page 1 of 1 pages