By Mike Maddaloni on Friday, July 31, 2009 at 04:00 AM with
2 comments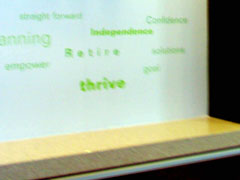 Thrive. It's a word I have been thinking about a lot lately. Up until about a year ago it was not a part of my regular vocabulary. With the help of some close advisors, it was put in front of me and really hasn't left. Nor do I want it to.
Thrive is a powerful word. It is about not just moving forward, but being propelled. It is not a word you see in mainstream media at all, but comes in heavy doses in business and motivational books. Where many are talking mere survival, we should all be thinking about thriving.
To thrive is not a single event, rather it is a journey. Many elements are needed to thrive – some are energy, time, attitude and partners. Some may be able to do it alone, and others may need the help of others… in the later case, hopefully all involved will all thrive.
Thriving takes work, focus and a positive attitude. Outside and inside forces must be continuously overcome to thrive. To some it will be easier than to others.
If you are a regular reader of The Hot Iron you will see me use the word thrive more and more. If you are not a regular reader – subscribe!

Did you enjoy reading this? You are welcome to subscribe to The Hot Iron by RSS feed or by email.
Business
• (2)
Comments
•
Permalink

Page 1 of 1 pages