By Mike Maddaloni on Friday, May 09, 2008 at 07:07 AM with
0 comments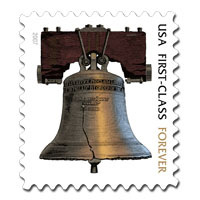 This coming Monday, May 12, 2008, postal rates increase in the US. For the most common postage value, the rate for a 1 ounce first class letter increases from 41 cents to 42 cents. I never understood why they don't raise it by a nickel every several years rather than a penny every year, but I digress.
To avoid the catastrophe of post offices running out of 1 cent stamps to cover the increase, the US Postal Service last year introduced "forever" stamps. The premise is once you buy the stamp, it will always be valid for the 1 ounce first class letter rate. So if you bought a forever stamp at 41 cents today, you would not have to add additional postage when using it on Monday when the rate increases.
I laud the post office for introducing forever stamps, as there is surely a significant cost for printing and distributing the additional postage stamps. Not to mention you and I enduring huge lines at the post office to buy another penny stamp. Plus you get some small satisfaction of beating the system.
Business
• (0)
Comments
•
Permalink

Page 1 of 1 pages