By Mike Maddaloni on Monday, January 26, 2009 at 04:00 AM with
2 comments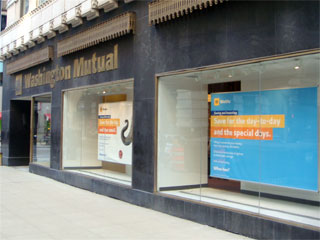 Last fall I was a little alarmed with my bank, Washington Mutual, failed and was taken over by the FDIC, only to have its accounts be taken over by JPMorgan Chase. When I went into my branch the next day and had full access to my account, I wasn't as worried, but I did wonder how this would impact me and the great people who work there. Now that Chase has released some of its plans, I have some cautious optimism.
In case you have a weird look on your face after reading the previous paragraph, let me further explain. Yes, I did use the terms "my branch" and "the great people who work there" to describe my banking experience with WaMu. This is precisely the reason I opened my business and personal accounts with them years ago, because they sat down and talked with me as a human being, and didn't just throw a schedule of fees in front of me as other banks did.
The branch pictures is at the corner of Wabash and Washington in Chicago, and is a branch that will remain after the merger of banking systems is in place, and will be rebranded as Chase. Over the years I have gotten to know the 2 managers of the branch, the assistant managers and most all of the tellers. When I walk in, they say, "hi Mike" and will ask me how business is and how my daughter is doing. Now I hope you didn't fall off your chair when you read that, a description of a personal relationship with a bank! And to further clarify, I don't have several zillion dollars in my accounts.
My relationship with the people at WaMu is attributed to the philosophy of the former Seattle-based bank, namely a more relaxed atmosphere. Tellers stand at kiosks and cash is dispensed from a central machine, so no thick glass walls between people and the customers. It is also sincere. Contrast that with my experience with Citizens Bank. Years ago when I was in Boston and president of the Jaycees chapter, I was introduced to a VP at Citizens Bank who was very interested in our business and offered to introduce us to people in the community. Shortly after we opened our account with Citizens, that VP wouldn't respond to my queries and the branch manager who opened our account couldn't remember me from a stick in the mud.
Where change is inevitable in any business relationship, it will certainly happen at WaMu as it becomes Chase. Beyond a friendly attitude, the staff has been helpful in my day-to-day transactions and matching my business with their products. I am not that demanding of a customer (as far as I think!), and it's been a nice experience so far, and I hope the folks at Chase don't screw it up, to be completely honest.
Unfortunately banking has been a commodity today. Poor service or no service has become the norm. These facts can easily be verified by just about every person on the street, not to mention employees of the banks themselves. My WaMu experience has certainly been unique, and I am not going out of my way to look for a new bank just yet. There is a cost to switching bank accounts – mostly in time – and I have better things to do with my time. I only hope Chase doesn't live up to their name.

Did you enjoy reading this? You are welcome to subscribe to The Hot Iron by RSS feed or by email.
Business
• (2)
Comments
•
Permalink

Page 1 of 1 pages