By Mike Maddaloni on Thursday, August 14, 2008 at 04:00 AM with
7 comments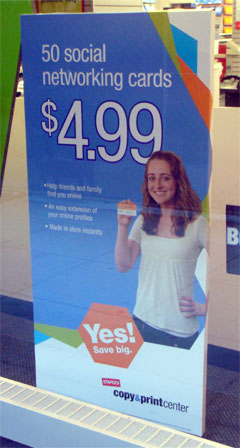 Just in time for Colonel Tribune's tweetup this evening in Chicago, an offer to help you when you meet people – social networking cards.
So what is a social networking card? In reality is nothing more than a rebranding of the tried and true, standard business card. However since you may not be in business or want to represent yourself as an employee when at a social networking event, Staples had the foresight to take something they already sell – in-store made business cards – and offer them to a new market with a new name.
In my humble opinion there has not been a true replacement developed for the business card. Sure, you can beam contact information from one Palm device to another, send a text message to retrieve contact information or simply tell someone your social networking site or link. The business card works on a lot of levels. It is small, provides visual cues along with the information on the card and allows you to write on it, providing you did not get a gloss coating on it. And they work best in a crowded room, where it's loud and busy, and you are trying to balance a drink in one hand and the last thing you want to do is tap on a portable device.
Will the business card be replaced? Maybe. But in the meantime, you should have your own, and they work best when you carry them on you.

Did you enjoy reading this? You are welcome to subscribe to The Hot Iron by RSS feed or by email.
Business
•
Technology
• (7)
Comments
•
Permalink

Page 1 of 1 pages