By Mike Maddaloni on Friday, January 20, 2012 at 03:47 PM with
0 comments
On their own, business and sports are great areas of conversation in social media. Mix the two, and as it can be in real-life, it can be a tricky area to be in. Do it well, though, and it can go a long way.
This is what happened with me and a couple of others this past weekend, and related to the NFL's AFC Divisional Playoff game between the New England Patriots (my team, which you may have gleaned from a post or 2 here on The Hot Iron) and the Denver Broncos. A couple of Broncos fans stepped up and offered bets with payouts via social media, and I jumped at the chance. With the Patriots handily beating the Broncos 45-10, My friend Glenn Letham and Jared from my favorite domain registrar Name.com paid me back this week via their blogs.
Glenn Letham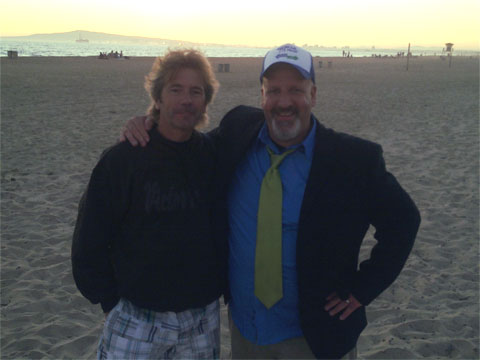 I met Glenn a few years back at Nokia OpenLab in Helsinki, Finland. Hailing from Vancouver, Canada – and formerly from the Denver area – Glenn is a journalist, speaker and expert in geographic information systems (GIS) and location-based services (LBS) and anything Geo for that matter. Though we have only seen each other in person a couple of times – once at the Nokia E73 Mode Beach Party (as pictured) and when he was in Chicago for a conference, Glenn is a great friend and collaborator, and always has time to answer a question or offer advice and support.
Add to that list a good sport, as he wrote a nice post on his blog, The AnyGeo Blog, about not only the Patriots win but a nice nod to 5 years of this blog. Had I won I had to write a post here about the Broncos. You can read that post on his blog here from this link.
Name.com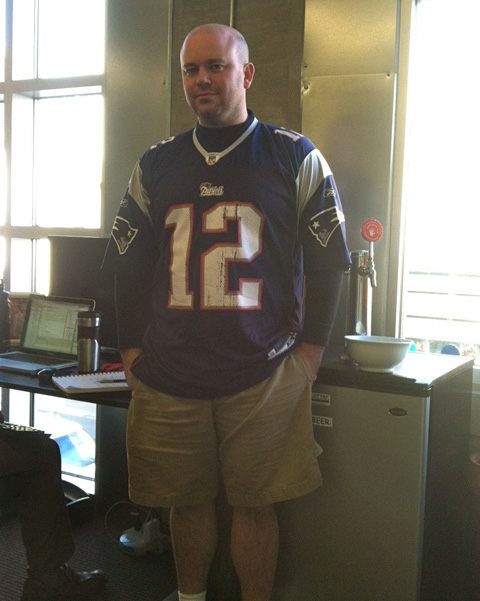 The fact that I made a bet on the Patriots/Broncos game with a Denver-based, globally renown domain name registrar is not unusual or surprising to me. From day 1 of my business relationship with Name.com, it has always been about people. I met my initial contact with them years back at a domain conference, and throughout the 4+ years working with them a person was always available to help if I needed one, in addition to them being proactive in offering assistance.
While I was tweeting with Glenn about the game last Friday, Jared the community manager at Name.com chimed in and offered to bet. Had I won, my Patriots fan Web site, GoPats.com, would have to pay homage to the Broncos. As I won, Jared had to go out and get and wear a Tom Brady jersey and post the picture on the Name.com blog. As a fellow bald guy I can say the colors work well for him, though I don't think he quite sees it that way.
I tip my hat (which happens to be from the Patriots win in Super Bowl XXXVI) to Glenn and Jared and thank them for not only holding up their end of the bet, but in showing great examples of how tastefully done niche engagement on social media can be done well.
---
Did you enjoy this? Subscribe to The Hot Iron by RSS/XML feed or Read by Email.
---
This is from The Hot Iron, a journal on business and technology by Mike Maddaloni, Founder and President of Web consulting firm Dunkirk Systems, LLC.
---
Blogging
•
Business
•
Social Media
•
Thrive
• (0)
Comments
•
Permalink

Page 1 of 1 pages