By Mike Maddaloni on Thursday, October 11, 2007 at 04:00 AM with
3 comments
Many Web sites feature a "click-to-call" button – when you click the button and enter your phone number, someone from the company or organization will call you. But what if you wanted to make the call yourself? After my last upgrade to the Skype client software and subsequent opening of the Firefox browser, a button appeared in the upper right corner – a new Firefox extension was installed to allow me to activate this feature.
Here's an example of how it looks. I chose the Web site for Silko Honda of Raynham, MA, eastern Massachusetts' best Honda dealer. In the footer of every Web page is their address and phone number, and this is how it typically looks.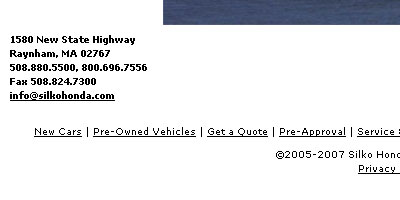 With the highlight button clicked, here's how the same area of the Web page looks: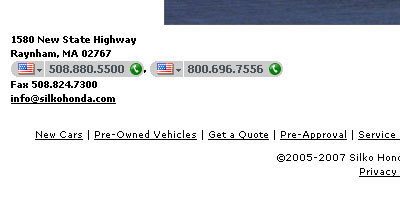 This feature is unique and makes Skype more of a player in the replacement of POTS – plain old telephone systems. Where Vonage has client software where you can type or paste in a phone number and your phone is rung and the call is placed, this is a one-click solution. This is not, however, a free call – you must have Skype credits or a calling plan. I have also experienced the browser act a little sluggish when I had the feature on all the time and I have seen other reports of this on forums.
This is the type of innovation that leads companies forward, and in the case of Skype may lead more people to pay for its calling services.
Technology
• (3)
Comments
•
Permalink

Page 1 of 1 pages