By Mike Maddaloni on Sunday, December 07, 2008 at 04:00 AM with
2 comments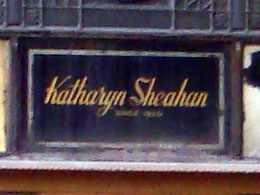 Near the corner of Madison Street and Michigan Avenue in Chicago was a Chicago-style hot dog shop I would go to on occasion. All of the sudden one day this spring it was closes, with no notice of why. Shortly afterwards work was being done on the store site along with the adjacent empty. When the hot dog shop's sign was removed, it revealed a sign that it had been covering. As seen in the first accompanying photo, it read, "Katharyn Sheahan, Since 1920." I did a Google search on the name, and nothing came up. Assuming it was some sort of store, it had been at this location at 81 East Madison Street at one point of its history, as seen in the photo below.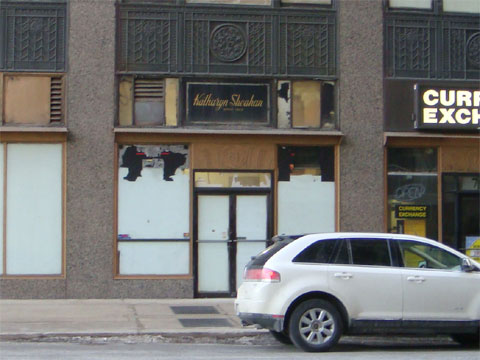 On closer inspection, the sign appears to be painted on glass. Well, it was painted on glass, as it is no longer there. At some point over the summer the sign was gone, and work was done to remove the entryway altogether to make way for a Bank of America branch which occupied 3 empty stores, as can be seen in the photo below.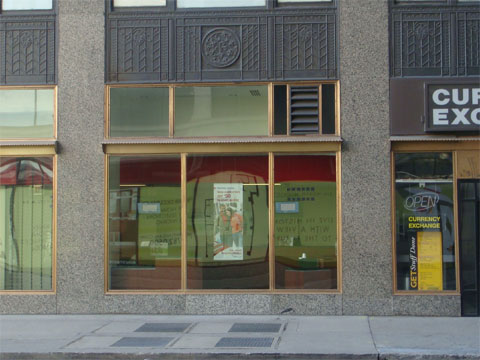 I have no idea if the sign was removed and possibly donated to the Chicago History Museum or simply saved by the building owner, or the paint was scraped from it and the original remains without the sign. As well, the street number sign was also removed, and I hope its fate was like the former above.
As a devout capitalist I believe change must happen. However it is also important to document and remember how we got here, for reasons that range from historic to nostalgic. If you have any knowledge as to the history of the sign or its whereabouts, please comment on this post.

Did you enjoy reading this? You are welcome to subscribe to The Hot Iron by RSS feed or by email.
Diversions
• (2)
Comments
•
Permalink

Page 1 of 1 pages