By Mike Maddaloni on Friday, October 18, 2013 at 08:32 PM with
1 comments
There once was a time I traveled so frequently for work that I had no time to think about what to pack. These days I travel so infrequently that I always forget what to pack. Both situations had one common denominator – my travel checklist.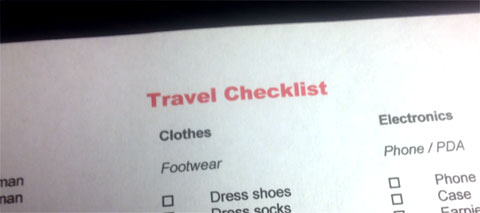 What started out as an on-going list so I wouldn't realize I forgot something when I got to my destination became an essential tool for every travel excursion, from overnight to weeks at a time. Whether I'd print it or simply reference it after I packed, the checklist has been invaluable to me for years.
Perhaps it will be to you as well, which is why I have decided to share it. You can get your own copy of my time-tested, evolved travel checklist in PDF format here. Go ahead – take it, edit it, adapt it for what you need for yourself or others and use it. You can see it is geared towards an individual male, but you can add whatever categories or accessories you need for yourself, partner, kids, pets, electronics, etc.
If this travel checklist comes in handy for you, please let me know in the comments. If not, any critique is also welcome as well.
---
This is from The Hot Iron, a journal on business and technology by Mike Maddaloni.
---
Did you enjoy this? Subscribe to The Hot Iron by RSS/XML feed or Read by Email.
---
Announcements
•
Strategize
• (1)
Comments
•
Permalink

Page 1 of 1 pages