By Mike Maddaloni on Tuesday, January 26, 2010 at 06:54 AM with
1 comments
It has served me well, and now it's time for it to be in the hands of a start-up Web design and development business. I am talking about The Web Design Business Kit from SitePoint, which I have just posted for sale by auction on eBay. Below is a photo of the 2 binders and CD-ROM which make up the Kit.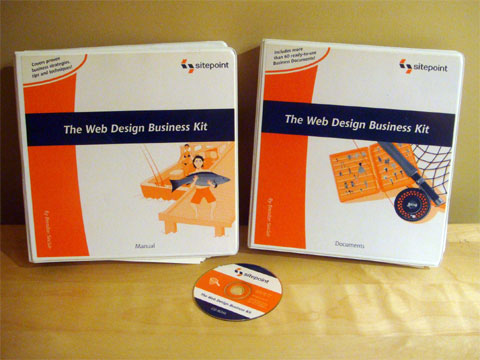 The Kit consists of processes and procedures for owning and operating a Web design and development business. It is a step-by-step process that takes you through the business process of building a Web site and is supported by documentation and files in Excel and Word you can use right away in your business. Note the files are in Australian MS format but can easily adapted to US format. I purchased the Kit brand new a few years ago and learned quite a bit from it. The version 2.0 of this sells for almost $250.00. The content in the Kit is timeless.
The auction closes next Monday night, February 1, 2010, and bidding starts at a penny for this great buy.

Did you enjoy reading this? You are welcome to subscribe to The Hot Iron by RSS feed or by email.
Build
•
Business
•
Strategize
•
Web Design
•
Web Development
• (1)
Comments
•
Permalink

Page 1 of 1 pages