By Mike Maddaloni on Tuesday, April 08, 2008 at 07:08 AM with
0 comments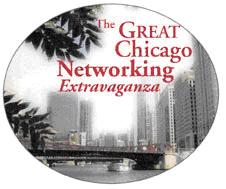 I have just registered for the Great Chicago Networking Extravaganza, to be held on Thursday, May 8 in Lombard, Illinois. Yes, I will be venturing out to the suburbs of Chicago for this event, and I am looking forward to it.
This is the seventh such event put on by Lillian Bjorseth and Jason Jacobsohn. I have gotten to know Jason over the last couple of years, first virtually through our own blogs then in person. His blog, Networking Insight, is an excellent resource for information and tips on business networking. He offers straightforward, practical advice without hype, thus making it a popular resource for people not just in Chicago but worldwide.
With those credentials, this event will surely be an effective platform for meeting colleagues. Hope to see you there!
Business
• (0)
Comments
•
Permalink

Page 1 of 1 pages