By Mike Maddaloni on Friday, June 29, 2007 at 07:57 AM with
0 comments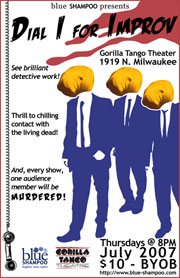 My creative outlet continues! Blue Shampoo, the improv comedy troupe in Chicago that I am proud ot be a member of, presents our next show, Dial "I" for Improv!
Dial "I" for Improv is a mix of long and short form improv - entertaining games and scenes attacking the murder mystery genre! See brilliant detective work! Thrill to chilling contact with the living dead! This fully improvised murder mystery is packed with laughs, intrigue, and weird strangeness and strange weirdness of a most supernatural mysterious nature of mystery! Gather your courage all who dare and join the fun! You just might end up a victim...of comedy!
Our show is every Thursday in July - 5, 12, 19 and 26, at the Gorilla Tango Theater, 1919 N. Milwaukee in Chicago - right off the Western Blue Line stop. Show time is at 8 pm and tickets are only $10. The theatre is BYOB, and you will not be alone if you do! You can buy tickets online, or call the theatre at 773-598-4549.
Diversions
• (0)
Comments
•
Permalink

Page 1 of 1 pages