By Mike Maddaloni on Tuesday, October 23, 2007 at 05:56 AM with
0 comments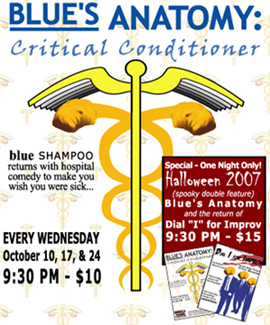 This is another shameless plug for my improv comedy troupe, Blue Shampoo, and our new show - Blue's Anatomy: Critical Conditioner.
Blue's Anatomy: Critical Conditioner is a hilarious romp through the most bizarre hospital on Earth! Blue Shampoo doesn't stop there either! On Halloween night, we have a double-feature that will include an encore performance of our last show, Dial I for Improv. It's time for your annual comedy check-up so be sure to check out Blue's Anatomy: Critical Conditioner! Both shows are completely improvised, taking suggestions from the audience to help create our show.
Our show is the next 2 Wednesdays in October - 24 & 31, at the Gorilla Tango Theater, 1919 N. Milwaukee in Chicago - right off the Western Blue Line stop. Show time is at 9:30 pm and tickets are only $10 - our Halloween double-feature is $15. Gorilla Tango now has their liquor license, so when you come to the show, you'll no longer be laden down with supplies. You can buy tickets online, or call the theatre at 773-598-4549.
I am honored once again to work with such talented actors and actresses in Blue Shampoo - catch the show and see them now before they make the big show!
Diversions
• (0)
Comments
•
Permalink

Page 1 of 1 pages