By Mike Maddaloni on Tuesday, January 05, 2010 at 04:00 AM with
3 comments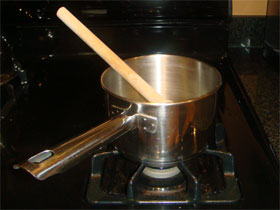 Here's your opportunity to get a great domain name - SaucyPans.com. I have decided to sell this domain name, and am using Bido.com, the social domain name auction service.
SaucyPans.com is a fun name for a food-related, cooking and/or culinary Web site targeted to those who seek excitement in cooking. It is a play on the descriptive term "sauce pans" and the term "saucy" brings a touch of fun into it.
There is no reserve for the auction of SaucyPans.com, and the opening bid starts at US$28. The auction will be on Wednesday, January 20, 2010 at 2:00 pm ET, 1:00 pm CT. You must register with Bido to participate in the auction. Even if you're just interested in watching it, the Bido site has some unique features.
See you at Bido on January 20, and bid early and often on SaucyPans.com!

Did you enjoy reading this? You are welcome to subscribe to The Hot Iron by RSS feed or by email.
Announcements
•
Domain Names
• (3)
Comments
•
Permalink

Page 1 of 1 pages