By Mike Maddaloni on Monday, May 14, 2007 at 03:02 PM with
0 comments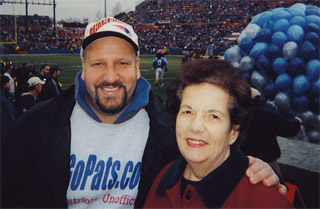 A very heartfelt (albeit belated) Happy Mother's Day to all of the Moms out there and to those who are regarded as a Mom to someone. I especially extend this to my Aunt/Godmother and to my own Mother-in-Law, the latter with whom we spent some nice time with this past weekend.
It is also yet another day that I remember my own Mom, whom I lost 6 years ago. She was an amazing woman, and I could fill pages of posts about how truly wonderful she was. Not only was she the one who taught me about sports, but she did all she could to make sure both of her kids went to college, and encouraged me all the way with computers from when I got my first one in junior high. Though it may be cliché, I would not be here today if it wasn't for her love and sacrifices.
This picture is my favorite of me and my Mom, taken at the old Foxboro Stadium during a Patriots game in 1999. Some say it is ironic that the Patriots won the Super Bowl and I got married, both within a year of her passing – but I know better that there were some special "forces" involved!
Diversions
• (0)
Comments
•
Permalink

Page 1 of 1 pages