By Mike Maddaloni on Monday, October 13, 2008 at 04:00 AM with
3 comments
Yesterday was the 31st annual running of the Chicago Marathon. Formerly known as the LaSalle Bank Chicago Marathon, it is now the Bank of America Chicago Marathon as the latter bank bought the former. Drawing over 45,000 runners, it is a major event winding through the Windy City.
With the name change came a brand change. This was not surprising, as Bank of America owns the marathon. This is the former branding for the marathon: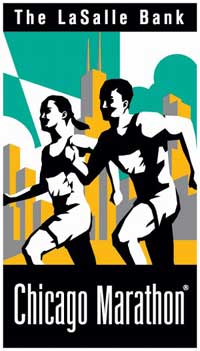 As you can see, the LaSalle Bank name is right on top, and the colors represent the green and gold of LaSalle and its former parent company ABN Amro. But the name is subtle, and the artwork pays homage to the Chicago skyline. When the marathon was rebranded, the following was originally used as the marathon, including on the marathon Web site: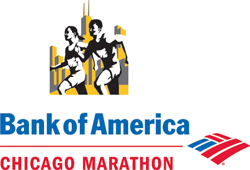 However come race day, the remnants of the old artwork were no where to be found on TV or along the course, and just the following was used:

With bank acquisitions occurring at such a rapid pace, people are almost oblivious to it. Where protests still occur to this day over the elimination of the Marshall Field's name by Macy's, nobody is complaining about the loss of bank names. And my guess is I am one of the few griping about the elimination of this event's unique branding, only to be replaced with the rubber stamp of another brand. I am not a branding guru myself, but I would be interested in seeing how these 2 brands go head to head at
Noah Brier's brand tags site
.
For the sake of full disclosure, I am a Bank of America shareholder, though I never purchased the stock. I originally purchased stock in BayBanks, which was acquired by Bank of Boston, which was acquired by Fleet, which was acquired by Bank of America. Where their tag line is "bank of opportunity" to me it should almost be "bank of mediocrity?"

Did you enjoy reading this? You are welcome to subscribe to The Hot Iron by RSS feed or by email.
Business
• (3)
Comments
•
Permalink

Page 1 of 1 pages