By Mike Maddaloni on Wednesday, March 09, 2011 at 06:17 AM with
0 comments
In the past I have said QR codes are a way of tying the offline and online worlds. After seeing the use of a QR code I am writing about today, I am changing that statement to this: QR codes are a nexus between mediums.
Name.com is a great domain name registrar I use personally and for my business (note the link is an affiliate link). They have a clean and intuitive user interface that does not bombard you with upselling options at every click! They also provide outstanding and efficient human support whenever I need it. As part of that service, Name.com have recently launched an app for Android mobile devices, allowing you not only to register new domain names, but backorder domains as well as manage your entire account. They announced this with an email message as pictured below.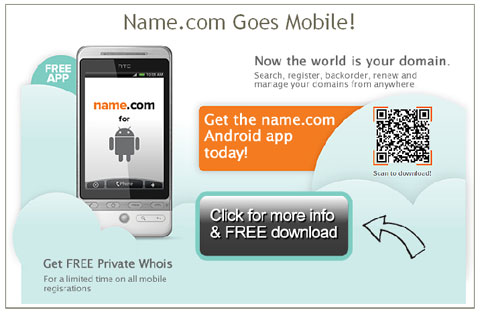 In it, there is a QR code. It links to a page on their Web site for the app. The email message is consistent in design with the Web page. The options they include on this Web page, including the ability to download it by SMS (texting to us in the US) and email, as well as a QR code taking you directly to the Android Market.
In this case, the QR code was a bridge between digital mediums – email and the Web. Of course if I read this email on my mobile device I wouldn't be able to scan it, but as I opened it from within my Thunderbird email client, it worked. An argument can be made whether to link directly to the Android Market from the email rather to a landing page which then links to the Market. This is a great scenario for performing A/B or split testing on the email message, which they may have done anyway. Overall I believe this email from Name.com does a decent job of communicating the value behind the QR code.
What do you think of this QR code use? Would you link directly to the Android Market? Have you or would you use a QR code in an email message? You are welcome to share your thoughts and opinions in the comments of this post.

Did you enjoy reading this? You are welcome to subscribe to The Hot Iron by RSS feed or by email.
Technology
•
Mobile Technology
•
QR Codes
•
QR Codes In Action
•
Strategize
•
Web Design
• (0)
Comments
•
Permalink

Page 1 of 1 pages