By Mike Maddaloni on Thursday, October 22, 2015 at 02:36 PM with
0 comments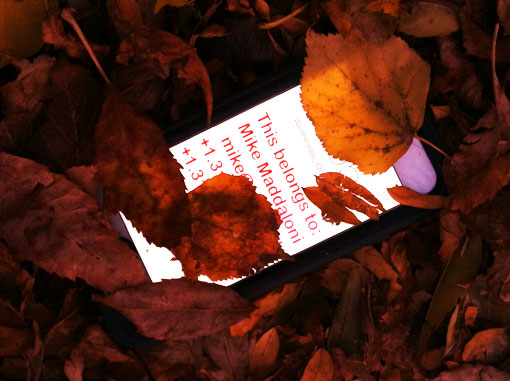 Whenever someone gets a new or upgraded mobile device, the first thing they do is customize it. From app icon placement to wallpaper images, they do all that they can to make it suit their needs... or ego, or both.
I'd like to share a mobile customization that you can easily do, and it can help you get your device back in case it is ever lost or stolen – customize the lock (or security) screen with your contact information.
It Works!
This idea is actually nothing new for me, as it dates back before I had an iPhone, and even back before I had a Nokia – going back to almost 6 years when I had a Palm 680 smartphone. In those golden years, the lock screen of the Palm allowed you to customize a text message, of which I did with with my name, phone and email address. All was good until one night when I was running late to do the lights and sounds for a friend's improv show, and in the process of running from the train to the theater, I dropped my Palm device. This I didn't realize until right before the show started, as I reached to silence a device that was not there. As I had my contact info right there when the kid who found it turned it on, he was able to email me, and we met the next day to get my phone back. Phew!
Create Your Own Image
With today's popular phones, you can do this with customizing the background image – or wallpaper – on the phone's lock screen, as you can see that I did on the above photo of my iPhone. In this case, I used PhotoShop, the graphic design software, to create an image to fit on the lock screen, and added the text I wanted. If you don't have graphic design software, you can still do this a variety of ways, including these tips for the iPhone, Android or Windows Phone. If this is beyond your tech savviness threshold, you can just print out a piece of paper with your info on it, take a picture of it, and save it as the lock screen wallpaper.
But Wait, What About Find My Phone Apps?
Yes Virginia, there are apps and core functionality of devices that allow you to track your device using GPS. And yes, these apps can work to help you retrieve your device. But if someone finds your phone, and when turning it on sees you name, this can be a deterrent to them to whatever nefarious things they may have considered doing to it. Plus they may even get in touch with you prior to you yourself realizing it is missing or can get to a computer to use that find function.
Will You?
Sometimes the simplest solution is the most effective. Your lock screen doesn't have to be as simple as mine – it can have style, and your contact information as well. If this has convinced you to create a custom lock screen, please let me know in the comments to this post. As well, if you would never consider doing this, I'd like to know that too.
---
This is from The Hot Iron, a journal on business and technology by Mike Maddaloni.
---
Did you enjoy this? Subscribe to The Hot Iron by RSS/XML feed or Read by Email.
---
Build
•
Technology
•
Mobile Technology
•
Strategize
•
Web Design
• (0)
Comments
•
Permalink

Page 1 of 1 pages