By Mike Maddaloni on Thursday, March 19, 2015 at 08:35 PM with
2 comments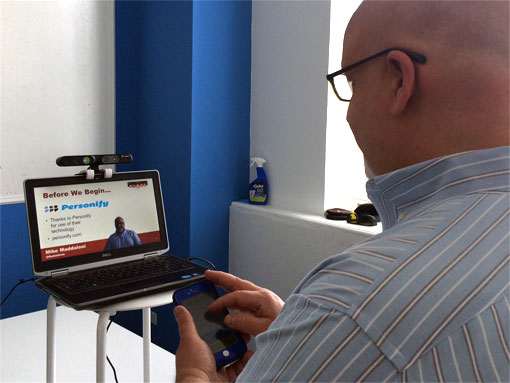 Going into my recent guest lecture on blogging at the University of Wisconsin-Oshkosh, I know I couldn't physically be there. This wouldn't be a problem for the professor, Dr. Sara Steffes Hansen, as she has had remote guest lecturers in the past using Skype. Though Skype was also a viable option for me, it would not truly represent "me" as I would want it to – both in my presentation style and how I wanted to present my material.
Pondering this, I recalled a presentation I saw by my esteemed colleague Dr. Dietmar Schloesser, where he used a 3D webcam and software and the service from Chicago-based Personify where he literally "inserted" himself into his PowerPoint presentation which he was giving remotely. So I wondered, could I do the same, without adding unnecessary complexity to Dr. Hansen and deliver an engaging presentation to her classes that would be like me being there?
The Next Best Thing To Being There
Leading up to the lecture, I reached out to Personify and asked them if I could use their "technology" for the lecture. I use that term in quotes as I really had no idea what was involved in this, and to what extent the effort would be on my part as well as on campus at UW-O in the lecture hall. Thanks to help from Personify's director of marketing Kira and solutions executive Nick, they explained the extremely straightforward concept, got me setup with their service and allowed me to use their office and one of their 3D cameras, when plugged into my notebook PC, allowed me to interact with the students some 4 hours north of me.
Using Personify Plus is similar to what a TV weatherperson does, where they stand in front of a large green screen, and the effect is that it appears they are in front of whatever image is selected, which is usually weather maps. With Personify Plus, the 3D webcam fulfills the role of the screen, where it isolates you the presenter (or presenters if there are more than one) from the background, then allows the image of you to be literally inserted into whatever presentation or what you put on your screen to share. In this case, I had a PowerPoint presentation. But as you can see from the photo below, I was able to bring up a weather map and use it just as any meteorologist would. Also notice the close-up of the 3D camera and the configuration panel on the left side of the screen.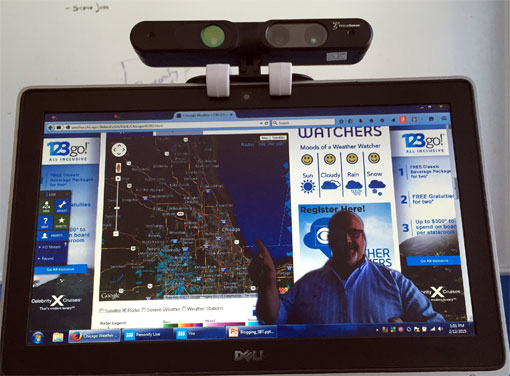 The Personify Plus software consists of a program installed on a PC or Mac that connects to an attached or installed 3D webcam, as well as to the Personify service. These are both intriguing elements of the Personify experience. Going into this, I really was not aware of 3D webcams, but they have been around, and more and more notebook PCs are being sold with them preinstalled. Also PrimeSense, the maker of the camera that Personify let me use, was recently acquired by Apple. Where everyone has been wondering what Apple would be doing with Beats headphones, I am more intrigued into what they could be doing with 3D! Also, the Personify service allows you to not only run presentations with you in them, but to record them as well. There is also a mobile app which, when logged in, serves as a remote control for the service, allowing you to make adjustments to your positioning as well as advance PowerPoint slides.
Putting it all together was very straightforward. Installing the Personify Plus software and mobile app were also easy. When I plugged in the 3D webcam, the drivers loaded, and then there I was, literally on my desktop. To transmit the presentation, I used Join.me, a free (and paid) screen sharing service. This was recommended by the Personify team as it had a much better streaming and video refresh rate than Skype or other services. So I connected with Join.me, went full-screen on my presentation and there I was, standing in the presentation.
I had to make small changes to the layout of my PowerPoint slides to allow for myself to not block any of the content on the individual slides. This process allowed me to rethink some of my presentation and what I was going to say as compared to what I put on the screen. It was my choice to use the lower quarter of the presentation, as I could have had myself be any size, which is a great option to have for just one person or multiple people.
Just As Successful In The Classroom
Where thus far I have talked about the technical and logistical aspects of my presentation using Personify Plus, what I have not mentioned – and what I was equally concerned about – was how it was received in the lecture hall on the Oshkosh campus. Even though I had discussed this fully with Dr. Hansen, she really didn't know what to expect. And even though I have seen a presentation using all of this, I did not know how giving one myself would be like without the visual feedback you get from the audience, as this can influence what and how you present.
Fortunately, everyone's expectations were exceeded with Personify Plus. It felt very natural for me to present, and the students in the classroom were engaged with my presentation, almost as if I was there. Feedback from Dr. Hansen was very positive, and so were the reactions from students in the class which they shared with the #uwonewmedia hashtag on Twitter.
The Next Level Of Online Presentations
I have sat through many webinars and other online presentations, and I admit that many times my full attention is not focused on it. Personify takes presentations to the next level not only with inserting the presenter but increasing engagement. I will sit there and watch all of a presentation, especially as the presenter or presenters themselves will also be changing, more like watching a video and not just a stack of static slides. Where I haven't given another presentation since using Personify Plus, I am eager to, and have thought of other uses for it, everything from creating business videos to comedy and improv – similar to how many movies use green screens for background scenery, you could do the same for local actors on a small budget.
Have you seen a presentation using Personify Plus, or would you want to? I welcome your thoughts in the comments to this post.
---
This is from The Hot Iron, a journal on business and technology by Mike Maddaloni.
---
Did you enjoy this? Subscribe to The Hot Iron by RSS/XML feed or Read by Email.
---
Blogging
•
Business
•
Technology
•
Social Media
•
Thrive
• (2)
Comments
•
Permalink

Page 1 of 1 pages