By Mike Maddaloni on Saturday, April 23, 2011 at 05:38 AM with
3 comments
For the past 18 years, I have been a season ticket holder of the National Football League's (NFL) New England Patriots. Pictured below is my seats at Gillette Stadium in Foxboro, MA, the home of the Patriots.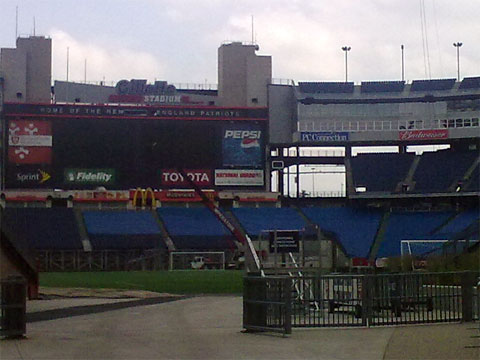 This photo was taken in the summer when there was nothing going on at the stadium, which explains why I am not sitting in them. By this September, I am hoping my seats and all the seats around it will be full on any given Sunday, with fans cheering on the Patriots.
As it stands right now, if things continue as they are, that won't happen. The collective bargaining agreement between the NFL and the NFL Players Association (NFLPA) expired, and negotiations on a new agreement fell apart. As a result, the NFLPA "uncertified" itself and is no longer representing the players. This same action happened back in 1987, the last time there was a gap in football due to labor negotiations.
Everybody Needs Everybody Else, But At What Cost?
It's hard for a common fan like myself, or probably most people who are not star athletes or team owners, to quite understand the breakdown in negotiating a new labor agreement. Some have called it the billionaires (the owners) versus the millionaires (the players) and that's not far from the truth. Issues of salary, plus extending the season to 18 games from 16 and long-term healthcare for retired players are some of the main issues to be resolved.
Where at that scale it doesn't resonate with me, it does on a much smaller scale, namely within my own business. As part of my Web consulting business Dunkirk Systems, LLC I work with subcontractors, work as a subcontractor to other firms and as well pay myself. When determining project costs and what people I can afford to have on a project or how much I can work for on another, a dollar value has to be determined. Sometimes there is a long negotiation, other times it's straightforward. In the end, it should be a win-win, otherwise it's something stuck in the back of my head throughout the project.
Everybody Wants The Games Played
Despite all that has happened, all parties involved want an NFL season. As a fan, that goes without saying. Recently, Patriots season ticket holders got an email from Robert and Jonathan Kraft, the owners and leaders of the team. The second to last paragraph gave me hope in football being played later this year:
We know that many Season Ticket Holders are feeling frustrated by our inability to finalize a deal with the players' union. We apologize for any role we played in that. Please know that we are working diligently to assure that NFL operations get back to "normal" as soon as possible.
Robert Kraft and his family bought the Patriots, a bumbling team, in the early 90's for what was then a record price. Under his leadership, the team has won 3 Super Bowls and has a shining stadium surrounding by a complex including a Renaissance Hotel, a branch of Mass. General Hospital and a Five Guys burger shop. Kraft has a finance background, understands league finances, and was a season ticket holder before he bought the team. With the metamorphosis of the Patriots over the years, I trust his words and know he wants his fellow fans to be watching games along with him this fall.
What do you think – will there be a 2011 NFL season? Your thoughts and opinions are welcome in the comments of this post.
---
Did you enjoy this? Subscribe to The Hot Iron by RSS/XML feed or Read by Email.
---
This is from The Hot Iron, a journal on business and technology by Mike Maddaloni, Founder and President of Web consulting firm Dunkirk Systems, LLC.
---
Business
•
Strategize
• (3)
Comments
•
Permalink

Page 1 of 1 pages