By Mike Maddaloni on Tuesday, March 04, 2008 at 03:46 PM with
0 comments
There's nothing like a Web site being down when there's a big event or a breaking news story. For a high-profile Web site to be down can be detrimental to its owner, especially if the particular event – or any type of event - can be predicted. Black Friday online shopping and Super Bowl ads mentioning Web sites come to mind.
Last week, it was mistakenly posted on the Web site of the NFL's Green Bay Packers its star quarterback Brett Favre was retiring. It turned out the "story" was merely a preparation for whenever the announcement of his retirement was made. It caused a small panic for Cheeseheads everywhere.
Today it was announced Favre is retiring. So I went to the Packers' Web site at packers.com to see how they handled the announcement. The team and its Internet consultant apparently anticipate a deluge of traffic, so they redirected traffic to the home page to a special "breaking news" page as shown below.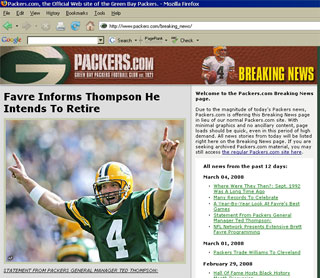 (click on the link to view a larger version)
On the page is the following text:
Welcome to the Packers.com Breaking News page.

Due to the magnitude of today's Packers news, Packers.com is offering this Breaking News page in lieu of our normal Packers.com site. With minimal graphics and no ancillary content, page loads should be quick, even in this period of high demand. All news stories from today will be listed right here on the Breaking News page. If you are seeking archived Packers.com material, you may still access the regular Packers.com site here.
This is a wise move, and interesting they actually stated it as they did. And to Mr. Favre, thanks for the memories, except for Super Bowl XXXI.
Business
•
Technology
• (0)
Comments
•
Permalink

Page 1 of 1 pages