By Mike Maddaloni on Monday, August 09, 2010 at 09:43 AM with
0 comments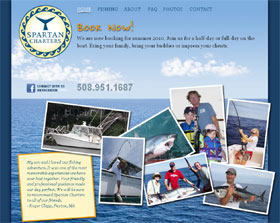 At Dunkirk Systems, LLC we are proud to have brought many clients to the Web for the first time. With the launch of the Web site for charter fishing service Spartan Charters we continue along this great tradition.
Spartan Charters is a full service charter company servicing Cape Cod, the Islands, and Southeastern Massachusetts and is a complete fishing guide and charter service. With their fleet of great fishing vessels and 2 experienced captains, Spartan ensures you have a quality and great fishing experience. As they say, they target big fish.
For this project Dunkirk partnered once again with Visible Logic, Inc. to great a highly functional Web site with a great design. The home page design is compelling to draw users to the various sections within the Web site, plus all navigational links are stylized text links, rather than images. A custom-developed content management system (CMS) powers the Web site allowing the Spartan Charters team to modify all Web site content. They are also embracing social media with their Facebook page and Flickr account with a wide variety of photos from past trips and catches.
Whether you're a seasoned fisherman or looking to entertain clients or guests with a fishing experience, Spartan Charters is the one to call… or contact through their new Web site.

Did you enjoy reading this? You are welcome to subscribe to The Hot Iron by RSS feed or by email.
Announcements
•
Build
•
Business
•
Web Design
•
Web Development
• (0)
Comments
•
Permalink

Page 1 of 1 pages