By Mike Maddaloni on Wednesday, August 18, 2010 at 10:09 AM with
1 comments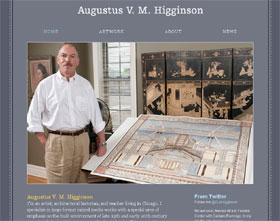 Coming off the successful launch of the Spartan Charters Web site last week, my Web consulting firm Dunkirk Systems, LLC is proud to announce the launch of the redesigned Web site for Chicago artist Augustus V. M. "Gus" Higginson.
The Web site, at www.AugustusHigginson.com, is a showcase for his work and his career. The artwork section features a gallery of his most recent works as well as some of his past works. As an architectural historian, many of his works pay tribute to great buildings, including The Rookery in Chicago and the Chicago Cultural Center. His works are large-scale, and the site features detailed photos of his works as well as the entire pieces.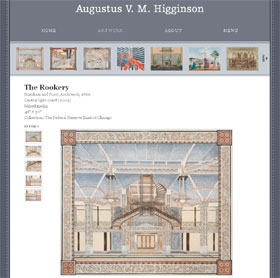 Once again, Dunkirk collaborated with Visible Logic, Inc. and Emily Brackett for this project. Emily's design not only serves as a great backdrop for Gus' artwork but also captures the essence of the artist as well. Behind the scenes of the Web site is powered by ExpresionEngine, the great content management system which we at Dunkirk have been working with for years for many of our clients. This provides the ability for editing of all content on the Web site and provides an infrastructure for managing search engine optimization. Integrated in the home page is Gus' Twitter stream, which you can follow and see photos of his current and past works in process.
On a personal note, it was a fun project, especially working with a local client. Most of my clients are not local, though despite this they progress very well, and many times I have met the client after the Web site was completed! It was great to sit at the table with Gus during each phase of the project.
Whether you have an appreciation for architecture, history, or simply want to see a unique perspective on some great places, check out the new Web site for Augustus V. M. "Gus" Higginson.

Did you enjoy reading this? You are welcome to subscribe to The Hot Iron by RSS feed or by email.
Announcements
•
Thrive
•
Web Design
•
Web Development
• (1)
Comments
•
Permalink

Page 1 of 1 pages