By Mike Maddaloni on Friday, January 21, 2011 at 03:26 PM with
0 comments
Where we at Dunkirk Systems, LLC have clients who sell goods and services through eCommerce Web sites we built for them, never have we built a Web site for just one sale. In this case, it is a condominium in downtown Chicago, Illinois.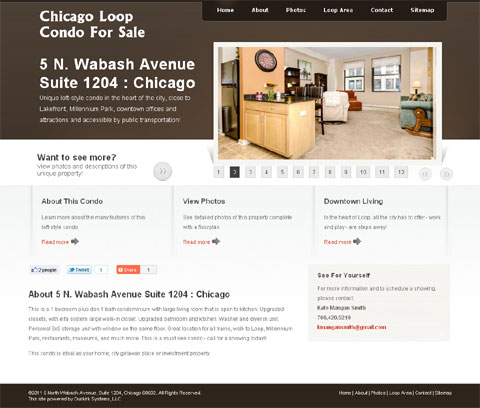 The property is at 5 North Wabash Avenue, Suite 1204 in Chicago's Loop. In a century-old building recently renovated and around the corner from Millennium Park, this 1 bedroom, 1 bathroom plus a den with loft ceilings is a unique property. To enhance the sales process, we were brought on to develop a Web site for this recently listed property. It leverages information from its multiple listing service (MLS) listing, as well as a service used by the REALTOR to photograph and create an interactive floorplan. This also includes a North Wabash Avenue Suite 1204 mobile Web site complete with a QR code and link on every Web page. As with any Web site Dunkirk builds, we built into it the ability for the client to specify and define content, sitemaps to submit to search engines, statistics with Google Analytics and social media link buttons.
Check out the site at www.FiveNorthWabash.com, and if you or a friend or colleague are interested in a condo showing, please contact Kate Mangan Smith.

Did you enjoy reading this? You are welcome to subscribe to The Hot Iron by RSS feed or by email.
Announcements
•
Business
•
QR Codes
•
Web Development
• (0)
Comments
•
Permalink

Page 1 of 1 pages