By Mike Maddaloni on Friday, November 02, 2007 at 12:23 PM with
2 comments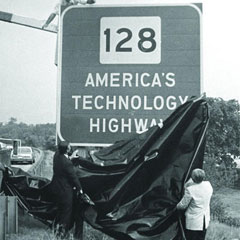 Today, November 2, domain name powerhouse NameMedia Inc. announced it filed for an initial public offering worth up to US$173 Million. Shares of NameMedia will be listed on the NASDAQ market under the ticker 'NAME.' This is big news for the domain name industry, as NameMedia is one of the largest players with BuyDomains as well as recent announcements of their launch of Gardens.com and acquisition of Photo.net.
It is also big news for the Boston area technology market, as NameMedia is located in Waltham, Mass., the home of many technology giants over the years, including Polaroid and Lycos. Waltham for centuries has been a center for pioneering advances in industry, including the Waltham watch, Metz automobile and bicycle, the invention of the microwave oven at Raytheon. In recent decades Waltham and the entire Route 128 corridor that cuts through it was called America's Technology Highway, only second to the Silicon Valley. After the dot-com bust many biotech firms replaced the offices of tech companies.
Good luck to NameMedia on their IPO filing, the next generation of innovators to line the highway immortalized in "Roadrunner" by Jonathan Richman and the Modern Lovers!
Business
•
Domain Names
• (2)
Comments
•
Permalink

Page 1 of 1 pages