By Mike Maddaloni on Thursday, June 05, 2008 at 06:58 AM with
11 comments
MyWay.com, or MyWay for short, is a Web-based personal portal. It was launched several years ago and later became part of Barry Diller's Internet empire. When it was launched, it competed head-to-head with MyYahoo! The idea was MyWay would not serve pop-up advertising as MyYahoo! was starting to do. This attracted me to the service and I have used it as my home page since, even though its feature set has remained stagnant.
That set of features took a hit this week with the shutdown of its stock portfolio feature. I found out about this the hard way – I simply noticed it was gone. In its place was a Flash widget-like box, as shown below: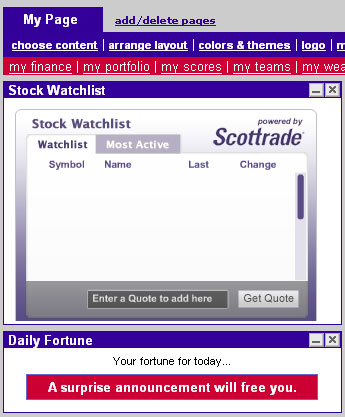 I looked around my MyWay page and clicked the "my portfolio" link at the top of the page. There was my list of stock tickers, with this message:

(its text - We are sorry. As of June 1st, My Way will no longer be supporting the Portfolio feature. We apologize for the inconvenience. Click here for more information about the new My Way Money page. - The My Way Team)
After clicking on the message (there was not a visible link) I got this message: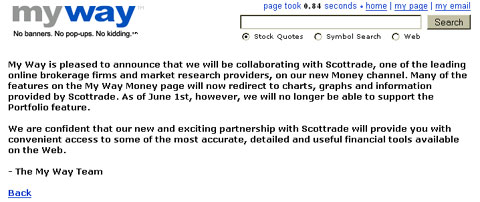 (its text - My Way is pleased to announce that we will be collaborating with Scottrade, one of the leading online brokerage firms and market research providers, on our new Money channel. Many of the features on the My Way Money page will now redirect to charts, graphs and information provided by Scottrade. As of June 1st, however, we will no longer be able to support the Portfolio feature. We are confident that our new and exciting partnership with Scottrade will provide you with convenient access to some of the most accurate, detailed and useful financial tools available on the Web. - The My Way Team)
Not knowing what to do, I tried to enter stock ticker but nothing showed up. Instead, ironically, pop-up windows with pages from Scottrade's Web site appeared after a few minutes. One was of its home page, the other a page to look up tickers, which did not work. I was using Firefox 2 and did not try it in another browser.
That was yesterday, and today, the Flash widget is gone, and in its place is this message: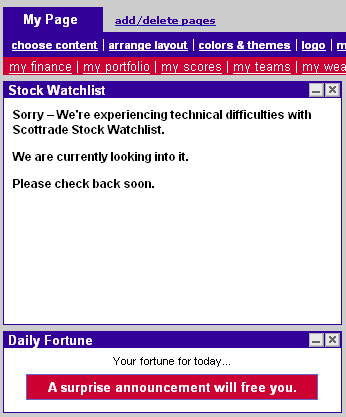 (its text - Sorry – We're experiencing technical difficulties with Scottrade Stock Watchlist. We are currently looking into it. Please check back soon.)
It's one thing if MyWay decided to partner with Scottrade, but do it right! Inform people of the change, don't just remove it and hope people will find a link to it (I never use any other portfolio features of MyWay). As Scottrade is guided by all kinds of SEC regulations, do I have to open a Scottrade account now? And what about a migration of my tickers, or do I have to re-enter them? I only have a few so it would not take too long, but I need to know either way.
Perhaps its time to move on and find a replacement service – maybe iGoogle or even look at MyYahoo! again. MyWay surely isn't doing it the way I would. And how about the irony of my fortune, displayed below the widget?
Business
•
Technology
• (11)
Comments
•
Permalink

Page 1 of 1 pages