By Mike Maddaloni on Friday, December 19, 2008 at 04:00 AM with
2 comments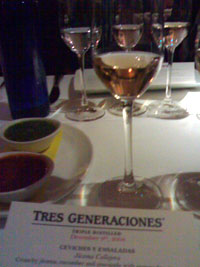 Premium tequila. I have to be honest; those are 2 words I never thought I would put together. But after attending a special event sponsored by premium tequila brand Tres Generaciones, my perspective has changed.
The event I am referring to was a small, intimate dinner organized by the Zocalo Group, who is working with Tres Generaciones (or 3G as I'll call it for brevity) on social media strategies. It was held at Rick Bayless' Frontera Grill in Chicago in one of their private rooms. I had never been to Frontera Grill before and was very impressed by the food as well as the service. It was attended by about a dozen people, including 3G's brand manager and brand ambassador, who gave us a world tour and history of tequila and 3G.
Prior to the tour we enjoyed margaritas made with the 3 varieties of 3G – Blanco, Reposado and Anejo – and following it enjoyed Frontera's signature cuisine. I had a Topolo Margarita, shaken in my presence. Of the 3 tequilas, which range in color and intensity (my term, not theirs!) my favorite is the Reposado, which has a light, caramel color. The blanco is clear and can substitute for vodka in a drink, and the Anejo has a darker color and could fill in nicely for a scotch, though I would have to have one accompany a good cigar to completely confirm it.
When I thought about this event beforehand, two other events came to mind of which I have attended in the past.
Back in the early 1990's I attended what was one of the first rounds of Johnny Walker scotch tastings. You had to know someone to attend, and my invite was through a friend whose invite was through a VP of a big Boston financial firm. It was at the Harvard Club in Boston and everyone was wearing suits. The brand ambassador was a Scotsman wearing a kilt, and everything tied in with the experience of enjoying scotch, whether it was Johnny Walker or the single-malt scotches that are blended to make it. This tour was accompanied by a buffet of fine gourmet foods. This introduction to scotch is one I still appreciate today.
Earlier this year I attended the first-ever Nokia OpenLab, which if you are a regular reader of The Hot Iron I have gone into at length. Again here was an event that was about an experience, this time Nokia technology. It was a small, intimate setting of about 35 people from around the world sharing their thoughts and backgrounds of technology and beyond. Coming away from that I gained unique, global perspectives on communication, and was sold on the Nokia brand.
With this in mind, I was not disappointed with the 3G experience. At the opening of the event I had the opportunity to talk with Derek Sauls, the 3G Brand Manager. He gave me the background on the brand and name, which evolved from celebratory tequilas to mark the 3 generations of the Sauza family. Derek also told me 3G is in the process of a rebranding which will be launched in February 2009, complete with a new bottle design and marketing campaign, including social media. Their foray into social media is something new for them, which explained why the attendees were people involved in various forms of social media.
Following dinner we had good conversation around the table, which included 3G's brand ambassador Jaime Rodriguez. We talked about perceptions of tequila, and as well what we do for the majority of our days to make a living. I recall my first indulgence in what we would call "to kill ya" and it would always be a group of us doing shots. Granted you can do this with any liquor, but the concept of it as a premium drink, and the fact there are other varieties of it, was a new and welcome concept. Our conversation also included the idea of social media in general, and I definitely learned more than I contributed to it.
As it is relaunching in February, 3G now has a new blog, Thirst for Wisdom and a profile on Twitter, Don Cenobio who was the founder of the Sauza. Their Web site has a "coming soon" message, but no links to either of these. I am interested in seeing what comes from this event, and how it evolves. I am also interested in seeing the new bottle in action – they had some empty ones there, but they asked us not to take pictures of them as it hasn't been launched yet. But I can tell you it is a nice looking bottle, displaying "coins" of the 3 generations, indentations to represent the blue agave plant from which tequila is made, and a cool-looking metal design at the top of the bottle.
Thanks again to Derek and Jaime for hosting, as well as Michael Stern and Andy Angelos of Zocalo Group for inviting me to this unique experience.

Did you enjoy reading this? You are welcome to subscribe to The Hot Iron by RSS feed or by email.
Business
• (2)
Comments
•
Permalink

Page 1 of 1 pages