By Mike Maddaloni on Friday, March 24, 2017 at 07:16 PM with
2 comments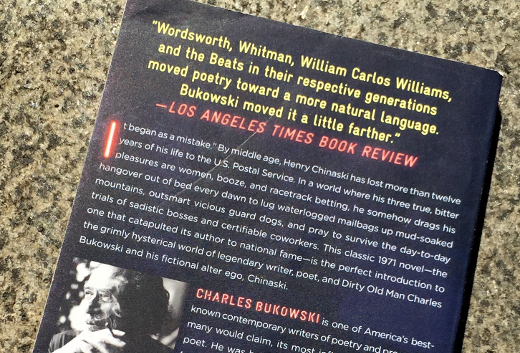 People learn about books and authors from a variety of sources – friends, social media, browsing airport stores, the New York Times Bestseller list... just to name a few. I first learned about writer and poet Charles Bukowski in a much different way – a bar.
The Bukowski Tavern is a quaint place tucked into the corner of a parking garage complex that also houses a high-end bowling alley and seafood restaurant in Boston's Back Bay neighborhood. The long, narrow joint serves a great selection of beers and has a kitchen, the latter which made "The Buk" a favorite lunch spot for me when I worked nearby several years ago. That, and the fact my co-workers didn't like it, made me a frequent patron as a getaway from my daily grind.
On the walls of Bukowski Tavern are paintings of the image of its namesake as well as quotes from his books. One would think by being immersed in such a locale would drive me to want to read his collection of books and poems. One would think, but that was then when curling up with a good book meant sticking my nose in a technical manual. That was then, this is now, and I have finally begun reading Bukowski's work.
Post Office was his first novel, written later in his life after publishing numerous short stories and poems and, as you might guess, working for the U.S. Postal Service. It is a gritty, real-life tale, yet written in a compelling way to hold the reader through the hard-drinking life and times of a mail carrier. As I read and absorbed this piece, the following takeaways came to mind.
The topic can be mundane – Working, drinking, bad relations... these don't necessarily jump out at you as topics you want to read about. As I made it through the pages of Post Office, the vivid story presented in front of me became as if I was watching it, and made for an entertaining use of my time. It fulfills the expression that it's not what you say, it's how you say it.
Read something different – A short perusal of the other book takeaways I have written here at The Hot Iron shows a variety of books, but few of them are fiction. This is not to dismiss the gripping and compelling business books I tend to gravitate to, but as I read Post Office it reminded me I need to mix it up more.
Write, right now – Post Office was written and published when Bukowski was 49. I am 49. Granted he had written many, many poems and short stories for many years. Where I won't equate my own little blog as an equivalent, as I have written the 800+ posts here over the last decade, I have gained a great appreciation and love of writing, and it's time to get those books out of my head and into a more tangible format.
As you might guess, Post Office is far from a children's novel. I highly recommend it for anyone who is not easily offended by language, and loves a good, real story. I gave this book to a friend who is a huge reader but has never read Charles Bukowski himself. It was easier to hand the book over to him than to fly him out to Boston to the bar, though the latter would be much more fun.
If you have read Post Office or any of Bukowski's other works, I'd welcome your thoughts in the comments to this post. I am now ordering his second book, Factotum.
---
This is from The Hot Iron, a journal on business and technology by Mike Maddaloni.
---
Did you enjoy this? Subscribe to The Hot Iron by RSS/XML feed or Read by Email.
---
Book Take-Aways
•
Thrive
• (2)
Comments
•
Permalink

Page 1 of 1 pages