By Mike Maddaloni on Monday, December 27, 2010 at 04:45 PM with
2 comments
Previously I talked about playing to your strengths. This doesn't mean being complacent and not growing yourself. Hardly, it says rather than focusing solely on being super humanoids, let's look at what we do best and leverage the heck out of it.
Among all the self-help business books out there is one which focuses on this – helping you identify your strengths and how to use them to your advantage. StrengthsFinder 2.0 is from the Gallup Organization. It is the second edition of a book which came out from the poll people in 1998. This book was recommended to me by a colleague and I bought my own copy of the book.
StrengthsFinder 2.0 comes with a single-use code for an accompanying Web site. The main feature of the site is the assessment. It is a survey which takes about a half hour to respond to all questions, and upon completion it gives you a list of your top 5 strengths, which come from a pre-defined list of 34. I took the assessment test first then read the book, upon my colleague's recommendation, rather than reading the book first. He recommends this approach so that the person who takes the assessment will have no preconceived notions of what the results will be.
After taking the Web-based assessment, here's my top 5 strengths: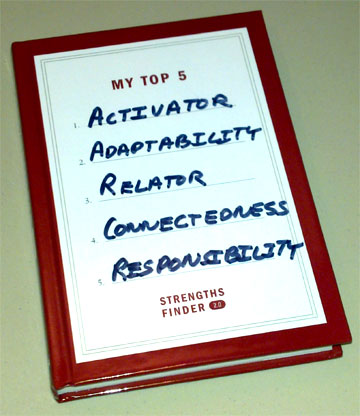 The above photo is of the cover of the book, where you can write your strengths after removing the dust jacket. If you don't see the photo, my top 5 strengths are: Activator, Adaptability, Relator, Connectedness, and Responsibility.
Now What?
After I got my results from the assessment, I sat back and took a look at the 5 words given to me. At first glance, they were not a complete shock or surprise to me. I like to think I know myself pretty well, and coupled with what others have said to me about me, these were in line with what I would expect from such an assessment. That being said, I did not know specifically these would come up as my top 5 strengths, so it was a good use of my time.
I then went to the book, reading the opening then the write-ups on my top 5 strengths. For each, there is a brief discussion on it, quotes from a selected people who have the same strength, "ideas for action" on how to leverage this strength, and tips for working with someone else with the same strength. Following reading on my top strengths I read through the remaining 29 strengths defined in the book. After reviewing the entire list and reflecting on all of it, there certainly are others strengths defined which would apply to me, but I am not discounting the top 5 selected as it is a good list to work with.
My takeaway from StrengthsFinder 2.0 is the overall experience that is the book, from the assessment to the discussion on all strengths identified. Although I don't consider myself an expert at assessing people, I do consider myself a decent judge of character and how to get the most out of people whom I work with. As Gallup is the expert at surveying, this was a great process to see how the questions in the assessment derived this list. The Web site has other tools, including one which allows you to make a poster of your strengths. I have this posted in my office, and glance at as a reminder on occasion.
I recommend StrengthsFinder 2.0 to anyone who is interested in playing to their strengths. It was not a complete life-changing experience for me, rather a good reaffirmation of who I am and what I can do. I do recommend getting a new copy of the book so you can get the code to take the assessment and get the full effect of the book.
---
This is from The Hot Iron, a journal on business and technology by Mike Maddaloni.
---
Did you enjoy this? Subscribe to The Hot Iron by RSS/XML feed or Read by Email.
---
Book Take-Aways
•
Business
•
Strategize
• (2)
Comments
•
Permalink

Page 1 of 1 pages