By Mike Maddaloni on Saturday, August 01, 2009 at 01:14 PM with
5 comments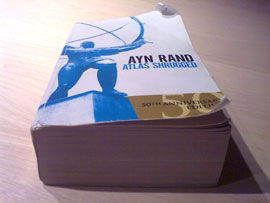 1,069 pages. That's one-thousand, sixty-nine pages, and no pictures either. The text on the pages was tight to the margins too. Spending an hour may get you through a dozen pages. Thus reading Atlas Shrugged took me almost a year, and finally I have another book takeaway to present.
That being said, I enjoyed reading Ayn Rand's famous novel. I came by it from mentions in other books and blogs I have read, as well as from reports in the media. The latter has much to do with the free-market theme of the book. Many who call themselves Libertarians consider this book from their inspiration to their manifesto. As a result, Atlas Shrugged is referred to much with regards to today's political environment, especially in the US, and by "both sides of the aisle" in one form or another. That being said, I am not writing takeaways about politics, as I wish only to look at what I took away from it within the theme of The Hot Iron. Any other dialogue on it can be discussed over adult beverages!
With that setup, here are my takeaways from Atlas Shrugged.
Understand the big picture – Many times decisions are made in business (and life too) that have an impact within a small sphere. Even if the results of these decisions are successful, they could have a negative impact on the bigger picture. Sometimes when an action is taken locally it may have not been needed, as there could have been something globally that could have been tapped into, thus saving time and cost. More often than not, a decision is made without regard it may impact those outside of the sphere, and ultimately does.
The best way I approach this is to step back and say to myself, "what is the ultimate goal?" This type of thinking outside of the box almost always brings creative ideas.
Get the best people for the job – There are 2 ways to do this. One is to simply match the job with the best qualified individual, one who brings experience and integrity to the role. The second way is to hire someone who you believe can do the job and manage them well and give them the time and venue to learn the job. If you don't give someone the opportunity to thrive, they won't.
Stick to your principles – Your principles are the one thing you can truly own. When your business runs out of customers, time or money, you will still have your principles. When you compromise them, not only are you changing how you operate but also yourself. You can change aspects of how you execute and still stick to your principles. It may take more effort, but in the end you will still be you.
Know when to quit – Quitting doesn't mean a finite termination in all cases. It could be pausing what you do or simply doing what you do best in a different venue. Quitting is often considered failure. But if you look at the big picture, you may not see that is necessarily the case.
I enjoyed the journey that was reading Atlas Shrugged and highly recommend it to everyone. I considered it a worthwhile investment of my time. Now back to my other books that stacked up over the last year.

Did you enjoy reading this? You are welcome to subscribe to The Hot Iron by RSS feed or by email.
Book Take-Aways
•
Business
• (5)
Comments
•
Permalink

Page 1 of 1 pages