By Mike Maddaloni on Friday, October 01, 2010 at 10:44 AM with
7 comments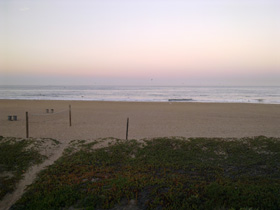 What better way to truly learn a new mobile device than to use it in real time… with colleagues in a business setting… dressed in suits… on a beach? This was my experience a few weeks back, as I was a guest and participant in the Nokia E73 Mode Beach House on Sunset Beach in Huntington Beach, CA.
Believe it or not, it was as I said – a gathering of mobile technology aficionados, with bloggers, consultants and fans. Most were from southern California, where a few of us were invited from around the US and Canada. The reason for the event was to get hands-on with the Nokia E73 Mode, a close sibling of the Nokia E72 smartphone, which is offered exclusively by T-Mobile. The business setting scenario was for a video shoot on the beach with all of us as participants, complete with planned and unplanned events. The weekend was organized by the gracious and brilliant minds of WOMWorld/Nokia, who handle word-of-mouth marketing for Nokia.
The E73 Mode Beach House was a multi-level house right on Sunset Beach. Those us from out of town – myself, Glenn, Lenny (aka The Truth) and Dennis – along with the WOMWorld crew – Donna, Adam and James – stayed at the beach house for a couple of nights and the house and back deck were converted for the festivities on Saturday night for us and those from the LA area. Some of the people included Jen, Jeb, Al and Mike. It was a reunion of sorts for Jen, Donna, Glenn and I as we all met a couple of years back at Nokia OpenLab in Helsinki. Though time had passed, it didn't seem like it as we all keep in touch through social media.
Our assignment for the weekend was to make a video of us using the E73 Mode. It offers different "modes" where you can have both a home and work screen, each configured for what you need for each. As the camera crew arrived and were setting up, we were ushered upstairs to get dressed. We were confused as we certainly weren't walking around the beach house naked. Then we saw what we had to wear – suits, complete with shirts and ties. Then the story came to life – we were working on the beach, but also living, and trying out the E73 Mode as to how it would help us with both modes of our life. As I said it is the sibling of the E72, one which I already own, I was well aware how well this works.
As for the video – nothing was scripted. There was the "story" of us working on the beach, but much of it was improvised, including Glenn surfing in his suit and the volleyball game of the suits vs. the locals, where the mobile geeks won! The video is embedded below, or you can watch the Nokia E73 Mode Beach Party official video on YouTube.
You can also see my Nokia E73 Mode Beach Party photos on Flickr, and follow the hashtag of #e73mode for more.
I'll write more on the E73 Mode later, reviewing its features, and comparing it to the E72 and other mobile devices. In the meantime, enjoy the video, and thanks to Nokia and WOMWorld/Nokia for a great weekend experience, not to mention building a great device.

Did you enjoy reading this? You are welcome to subscribe to The Hot Iron by RSS feed or by email.
Technology
•
Mobile Technology
•
Diversions
•
Thrive
• (7)
Comments
•
Permalink

Page 1 of 1 pages