By Mike Maddaloni on Friday, April 11, 2008 at 04:00 AM with
3 comments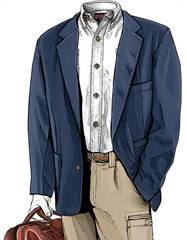 It wasn't until last fall that I realized the power of the blazer. My lovely wife and I were on vacation in Germany and when we checked into our hotel, the Westin Grand in Frankfurt, we found out that night was the hotel's grand re-opening and as guests, we were invited. The event was going to be posh to say the least, and unfortunately I had nothing to wear. We shopped at a couple of stores for a blazer, but with high prices and extremely devalued US dollar, I decided to pass. Needless to say, I was the only male at the party without a blazer.
It's not to say I was not presentable, as I had a button-down shirt and slacks and shoes - just no blazer. Even the photographer with the ratty t-shirt and unwashed hair looked more presentable with the blazer he was wearing. I do own a blazer, which at the time was hanging in my home closet, and I frequently wear it to networking events. Not only can a blazer add an extra touch to your attire, but it can be extremely functional as well. Pockets in the blazer allow you to carry extra business cards, separate received cards from your own, and carry schwag from an event… not to mention covering the spilled drink on your shirt.
Though my blazer has worked for me, my wife and marketing consultant have urged me to look for something new and more stylish. Though I always thought I look good in tweed, it is my one-and-only blazer and I agreed it was time to move on and look for another, a quest that was almost painful. My searches through men's clothing and department stores gave me the same old blazer. In additional to style, I was seeking something very functional – namely more pockets – and wrinkle-free, so it wouldn't require separate luggage to take it on trips. The more I looked, the more disappointed I got.
It wasn't until I was on an Amtrak train reading the seatback pocket magazine when I saw it – the blazer I was looking for. It was from Duluth Trading, a mail-order clothing catalog featuring extremely functional clothing, namely for outdoors and hard labor. The magazine featured the Transatlantic Travel Jacket, a microfiber blazer with multiple pockets on the inside, including a separate pen pocket, plus one of the outside pockets zipping closed. Sweet! Though I don't usually buy clothes online, their generous return policy reduced the risk and I ordered it.
So far so good for the blazer. I have worn it once and have several events where I will really put it to the test, including the Great Chicago Networking Extravaganza. I will also be bringing it with me on my next travels, just in case I need to upscale my look.
Business
• (3)
Comments
•
Permalink

Page 1 of 1 pages