By Mike Maddaloni on Sunday, September 22, 2013 at 09:08 PM with
2 comments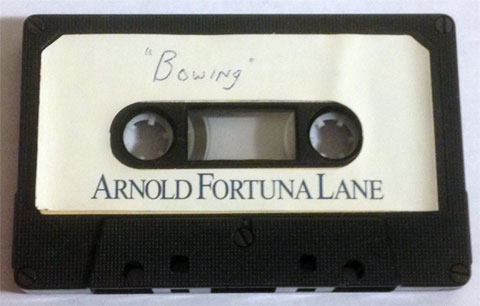 When going through a junk box of stuff recently I found the above-pictured cassette tape. After pondering what was on it for a bit, I realized what it was.
It is my Boston radio commercial debut, dating back to the mid 1990's.
The commercial is for Fleet Bank, and it was aired during radio broadcasts of the Boston Red Sox, throughout the Boston area as well as in other parts of New England. Thanks to a couple of friends I converted the audio to a YouTube video and you can watch the embedded video below, or listen to it directly from this link to YouTube.
So why was I in a radio commercial for a bank for my baseball team?
And Now For The Rest Of The Story
It was a summer night in Boston and I was going to a Red Sox game at Fenway Park. Prior to the game, as I would do for most games, I would have a pint or two of fresh-brewed beer at Boston Beer Works, a brewpub across from the ballpark. This night – and I forget the exact date or even the year – I recalled seeing some people with a digital audio tape recorder and a microphone. Being the former college DJ that I am (was?) I approached them and asked them what they were doing. They explained they were with an ad agency recording stories from fans for a series of radio commercials for the Sox for Fleet Bank, and then they asked me if I had a story. The story you heard in the commercial is what I told them, with a little editing I am sure.
After I recorded the story a couple of times for them, they asked me to sign a form with my name and address, indicating if they wanted to use it they would contact me. They gave me $10 for my time, and went on to talk to other people, as I went to the game. Several weeks went by, and one day I got a voicemail message from the ad agency, Arnold Fortuna Lane, saying they wanted to use my story and needed me to sign paperwork.
What? Me, on the radio? Cool! I called and confirmed my information, and they sent me a non-union talent contract to sign. They said in a few weeks the spots would run on the air and I would even get paid. What? Me get paid for being on the radio? Cool!
The next thing I knew, people were calling to tell me they heard me in the radio spot. I then made a point of listening to entire games on the radio, and there I was, telling people this story. My Mom, who was an avid listener of Red Sox games on the radio, would call me to tell me each time she heard me. Another friend said her Mom almost drove off the road when she heard me. The ad did not run every game, and as it aired later in the season it stopped its run in October. For my voice talent and my story, I got paid US$150.00 - surely not enough to retire on, but a nice bonus nonetheless. They also sent me the copy of the commercial on cassette tape.
That Was Then And This Is Now
I recall it was the mid 90's as Fleet Bank had just bought another bank in Boston, Shawmut, and was making a big radio campaign with an end-goal of customer retention. Fleet later merged with BankBoston which was later acquired by Bank of America. The ad agency is now known as Arnold Communication. Unfortunately for me the phone did not ring seeking my golden voice endorsing other products, but I went on to a career in the Internet that has led to this recording being unearthed and released for all to hear once again. The Red Sox made some changes since then as well.
Special thanks to 2 distinguished gentlemen who helped me get this cassette to the Web. My good friend and DJ extraordinaire Eric Patel transferred the cassette audio to MP3 format, and veteran Chicago filmmaker and historian Floyd Webb took the audio and made it into a video.
---
This is from The Hot Iron, a journal on business and technology by Mike Maddaloni.
---
Did you enjoy this? Subscribe to The Hot Iron by RSS/XML feed or Read by Email.
---
Announcements
•
Social Media
•
Diversions
•
Thrive
• (2)
Comments
•
Permalink

Page 1 of 1 pages