By Mike Maddaloni on Friday, October 27, 2017 at 05:02 PM with
2 comments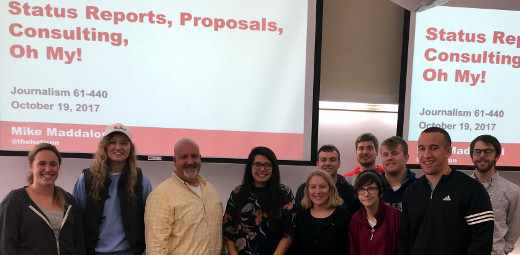 Last week I had the honor to guest lecture to students at the University of Wisconsin – Oshkosh (UWO) on the topic of consulting. As the students are working on group projects where they consult to organizations on the Web and social media, I was thrilled to be asked to share my experiences, stories and advice on consulting and working in technology.
The class, Application of New & Emerging Media, is taught by Dr. Sara Steffes Hansen, associate professor and chair of the Department of Journalism at UWO. The class is a required course for the Interactive Web Management (IWM) major, and also part of the curriculum for journalism and public relations majors. The interdisciplinary IWM program combines journalism, business and computer science courses to prepare students for digital careers, where all of these skills are vital.
With 10 students in the class, it was a good setting to talk on this topic of consulting, as well as the upcoming deliverables for their project, including an interim status report and a proposal to the client at the conclusion of the semester. I talked about the commonly-accepted description and roles of consulting, my take on it, as well as real-life examples (with client names properly masked) of positive and not-so-positive experiences throughout my career which spans now a quarter-century. As nobody nodded-off in class and the questions posed by the students were of a high caliber, I am hoping they got as much out of the time as I did.
Dr. Hansen said the students handed in their status reports this week, and discussed the aspects of customer service and risk. She added, "the students applied those real-world examples and consulting essentials from your presentation to their own communication efforts with clients. They could articulate the management of risk for the unknowns in their projects, which is a part of any Web, eCommerce or social media endeavor. It was nice to see the students enjoy their consulting roles in this discussion."
This is the second time I have given a guest lecture in one of Dr. Hansen's classes. Two years ago I spoke to her class, incidentally a pre-requisite of this one, on the topic of blogging. Where the last time I remotely spoke to the students using the Personify technology and a 3D Web camera, this time I was in person in the classroom, the method I prefer much better.
I have posted the slides from the lecture on SlideShare, and you can view them embedded below or view them at this link on SlideShare's site. On slide 11, I selected 3 famous people to help describe proposals – can you guess why I chose them?
(photo credit – Dr. Sara Steffes Hansen)
---
This is from The Hot Iron, a journal on business and technology by Mike Maddaloni.
---
Did you enjoy this? Subscribe to The Hot Iron by RSS/XML feed or Read by Email.
---
Announcements
•
Business
•
Technology
•
Strategize
• (2)
Comments
•
Permalink

Page 1 of 1 pages