By Mike Maddaloni on Thursday, July 10, 2008 at 02:16 PM with
2 comments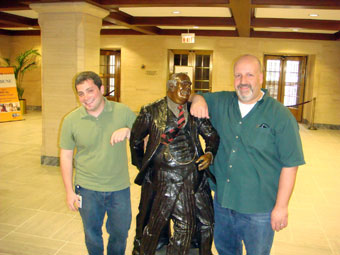 This past Monday I participated in a behind-the-scenes tour of the Chicago Tribune and chicagotribune.com. The invitation was extended by Colonel Tribune, the Web ambassador for the news and information Web service, via Twitter. For someone who has complained before that I want to know what is going on, I jumped at the opportunity, and along with me were Blagica, John and Adam.
The first stop was the daily meeting for chicagotribune.com. As the Colonel himself was not there, Daniel Honigman, their social media guru took us to the meeting. It was led by their innovation guru, Bill Adee, and staff for the site. I was impressed that as the meeting proceeded, the Web site was projected on the screen with overlays of Web traffic. As stories were reviewed, their relevance to the greater audience of the newspaper and the Web site were discussed. Where I did not assume all stories from the paper were simply posted to the Web site, it was interesting to see this in action.
Following the meeting we got a tour of the Tribune Tower, the iconic classis office building on Michigan Avenue that houses the newspaper and all its interactive properties. Leading the tour was Charlie Meyerson, a media veteran who is the editor of the highly informative Daywatch daily news email and joining us was Jonathan Ozeran who leads many of their interactive projects.
The Tribune Tower is more than an office building. It houses the history of the newspaper, which is intertwined with the history of the city of Chicago. There are the pieces of buildings from around the world woven into it, plus the awards and pictures over the decades. Many people who have been covered on the pages and Web pages of the Tribune have been through this building as well, and this video of the Tribune Editorial Board Conference Room shows just one of these many rooms of history.
We also visited the basement of the building where onetime printing presses roared and what is now the home to Tribune Interactive. Along the way we met their SEO guru Brent Payne. Other stops in the building showed us the Red Eye offices and the TV desk where many interviews have originated from.
Like the others on the tour, I took many pictures and you can view my Flickr set of my visit to chicagotribune.com. Special thanks to Colonel Tribune, Daniel, Charlie and everyone else whose workday we disrupted somewhat, but in return helped the public learn what it takes to make the World's Greatest Newspaper and its accompanying Web site.

Did you enjoy reading this? You are welcome to subscribe to The Hot Iron by RSS feed or by email.
Business
•
Technology
• (2)
Comments
•
Permalink

Page 1 of 1 pages